How to Use Henna 2011-08-10 04:05:49
The Pros and Cons of Henna Hair Dye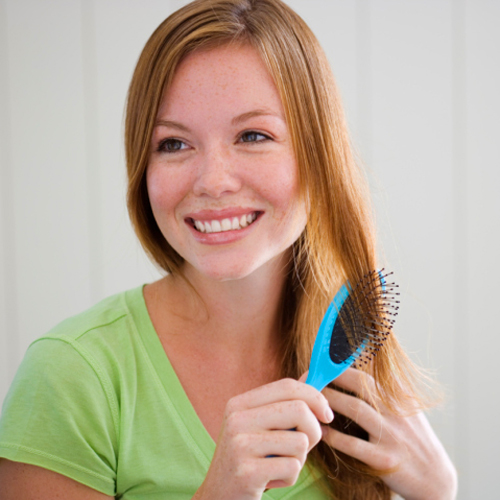 Henna is one of the oldest and most popular ways to change your hair color, but for such a commonly used dyeing agent, there's comparatively little information around on why, how, and when henna is a good choice and when it isn't. If you're contemplating coloring your hair with henna instead of a peroxide or ammonia-based dye but don't know whether you're making the right decision, here's a quick, easy guide to the pros and cons.
The Formula
Pro: Natural henna can make your hair knockout glossy and give it a rich red tint because the henna color molecule, lawsone, is a highly pigmented red-orange.
Con: Compound hennas (like the hennas that claim to dye your hair blonde, brown, or black) have additives. Some, like Lush's Cacas, are natural and only have additional ingredients like coffee and cloves. Other brands contain metallic salts and chemical lighteners that can wreck your hair. So unless you're going any color besides true red, be sure to read the box carefully.
The Color
Pro: Henna is a great way to go red without stripping your follicles or using chemicals that might irritate your scalp.
Con: Henna isn't as predictable as a chemical dye, so your color isn't guaranteed to be like it is on the box, especially if it's already previously been dyed.
The Process
Pro: After using body-art quality henna, your hair should feel softer, stronger, and undamaged.
Con: If your hair has been previously dyed or bleached with regular drugstore or salon dye, the remaining chemicals and pigment molecules from your last dye job can interfere with the henna, causing uneven color and even weird pigment results, like green hair. If you've been dyeing your hair with anything other than henna, you'll need to do a couple of strand tests to make sure.
Also, unlike 10-minute drugstore dyes, henna can be messy, and it may take a long time to dye your hair. Some people leave it on as long as six hours and wrap their hair in plastic wrap to keep in the heat and speed up the dyeing process. Basically, you might need to set aside a whole afternoon or evening for the process.
The Results
Pro: Henna doesn't fade nearly as rapidly as synthetic red dyes, so this is a great option if you're interested in being a redhead for the long haul.
Con: It's a double-edged sword. Getting henna out with bleach or other chemical means is often a disaster, since using peroxide or ammonia just drives the color even deeper into your hair shaft. Basically, once you start dyeing with henna, your options are to keep dyeing with it, let your hair grow out, or cut off all the colored hair.