How to Use a Liquid Eyeliner 2010-07-02 09:00:29
Solve Your Liquid Liner Problems With These Easy Tips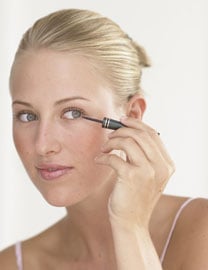 The best part about using a liquid liner is that it gives practically smudgeproof results. They're also richly pigmented and easy to wash off. The worst part? The application process, which can be daunting, to say the least. So I asked Avon's Jillian Dempsey (yes, the lucky wife of Patrick) how to make the liquid liner process go smoothly. To find out what she had to say, just keep reading.
The formulation: When it comes to a liquid liner, look for a waterproof formulation, like Vincent Longo's Vibrant Eye Waterproof Liner ($18.50) or Avon's Professional Eye Duo ($9), which includes a shimmery shadow on one end and a liquid-based eyeliner on the other. "The liquid liner is waterproof, so I think that if you can get an application on, you're good to go," she said.
The application: First and foremost, Jillian recommends that you get as close to your mirror as possible. Then, apply the liner by going between the lashline of your upper lid, lightly filling in that area. Don't try to draw a straight line. Instead, follow the contour of your eyes. "You get an even application when you follow your own natural line," she explained.
The thickness: In this case, the slighter the hand, the better. "That's where I think people go wrong," Jillian said. "They try and get really bold and say they're going to draw this big cat eye on. You don't have to. You just have to get in there with the liquid liner and draw a thin little line. Even a thin line will make a difference in how your eye appears."
What to pair it with: Use a sheer liquid shadow — either the one that comes with Jillian's duo from Avon, or one of your own. "I love a bit of a monochromatic shimmery eye. I think there's nothing better. Everyone can wear that," she said. Simply draw on a half-moon shape line on your lid and blend it out. You can go all the way up to the browbone with the color if you'd like, but just make sure to make that portion light and blended.