How to Use Sea Salts For Therapeutic Reasons
3 Soothing Ways to Use Therapeutic Sea Salts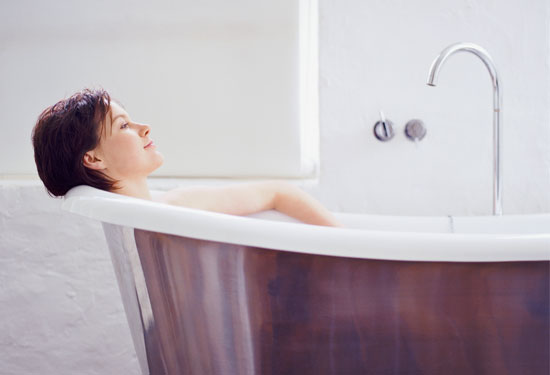 Sea salt may enhance the taste of your food, but when it comes to beauty, there are many people who believe sea salts are far superior to Epsom salts. And one of those people is Catina Stavroulakis, the founder of The Salt Project, a San Francisco-area based body care brand that manufacturers its products using the multipurpose mineral as a main ingredient.
"Whether you're soaking in sea salt or smearing it on the surface of the skin, it's going to speak to the skin in a healing way," says Stavroulakis. To find out more about the therapeutic benefits of sea salts, just keep reading.
For soaking: "The truth about soaking in salt, whether it's sea salt or Epsom salt, is that you really do need to use a hearty amount for therapeutic use," explains Stavroulakis, adding, "The more the body hurts, the more you should use." For general, therapeutic benefits, Stavroulakis recommends between one and two cups, but if you have an extreme condition, use up to four cups. "You know you've got enough when you taste the water and it tastes a little salty," she explains.
Applying sea salts on the skin: If you're not bathing in salt (or soaking in it by means of the ocean), scrubbing with it is the next best thing. Tip: For a feel-good sensation while exfoliating, consider using it in micrograin form, as found in her brand's Scrub in a Tub ($8 to $80) body polish). "In microscopic view, the grains will all look the same and smooth, and you feel that when applying it to the skin," she says.
As a spot treater: "Allow the sea salt to rest in areas that you may need some healing — like on a blemish, a mosquito bite, rosacea, or psoriasis," she advises. Just let the salt sit for about thirty seconds to a couple of minutes while you polish the rest of the body.