How to Use a Spray Wax on Hair
If Matte Beach Sprays Aren't Your Thing, Try a Spray Wax Instead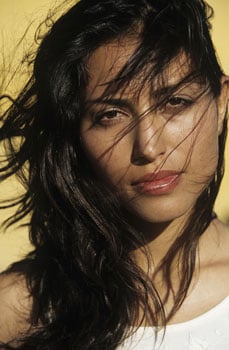 Beachy waves are typically achieved by using some kind of mattifying product, like Bumble and Bumble Surf Spray ($22). Recently, I became reacquainted with a spray wax styling product, and I'd forgotten how easy they are to use. Just like their matte counterparts, these spray waxes provide that laid-back choppy look, but with a slightly shiny finish. Best of all, they're lightweight.
Try Enjoy Texture Spray ($16) or Sally Hershberger's Genius Spray Wax ($12.50), both of which provide hold and texture to all hair types and lengths. Of her product, Sally says, "It's really about having the next-day sexy/messy look, with out looking all dry and greasy." To find out six different ways you can use this multifunctional product, just read more.
Tips for using a spray wax:
On dry hair: Simply spray all over the hair and tousle liberally with your fingers to create body. No brushing allowed. Build up texture and volume by working in layers; spray, tousle, let dry, and repeat if needed.
For a refined look: After blow-drying hair using a round brush, spray on the wax. Rake a wide-tooth comb through the hair to give a subtle separation, control, and hold to your strands.
On damp hair: For extra volume, texture, and separation, apply a spray wax to damp hair and blow-dry.
To restyle the hair: Treat a spray wax as a restyling tool. For a quick pick-me-up after work, spray the wax spray on the ends of your hair and twist or flip out. Then, head out the door for happy hour.
With a flat iron: For a smooth finish and to tame frizz, use your spray wax when straightening your hair.
For a fun, Summery look: Spray on wax, braid the hair, and let air dry. When the braids are taken out, you'll have pretty subtle waves with a satiny-matte finish.