How to Wear Bright Hair Color at Work
The Key to Trying the Bright Hair Color Trend (Without Losing Your Job)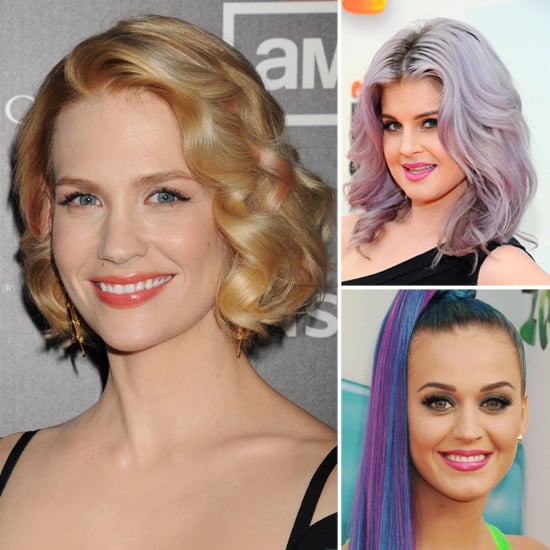 Bright hair color seems to be the trend to try this Spring. We've seen cool colors on stars like Katy Perry, Kelly Osbourne, and even Joan Rivers, who was recently spotted donning pink highlights. But how can you try this style if you have a strict nine-to-five dress code? Wella Professionals hair colorist Jennifer J. (the color connoisseur behind January Jones's rose gold highlights) has your solution.
It's called the peekaboo panel. It's the reason why we sometimes see the Mad Men star showcasing her slivered-pink hair, and sometimes we don't. To achieve this effect, Jennifer placed the color in a way that can be easily combed over. This alternative is a great option for trying trendy colors from lavender to rose gold without going way far-out. Learn more about the technique now.
How to do it: "You can either do fun streaks or have a panel underneath your hair like I did on January," Jennifer explains. "It wasn't super obvious, but it was noticeable. If she parted her hair in another direction you wouldn't even see it."
Still not sure? But if you don't think your boss will go for a pop of color, why not get wild on the weekends instead? Jennifer suggests using a temporary product like Hair Flairs Color Rub ($13). Just make sure to use gloves to apply and add hair spray to set the color. Luckily, it will wash away before your Monday morning meeting.
Still not convinced to try a bright hue? Then opt for a neutral color change this Spring. "Warm goldeny, caramel, honey tones — anything warm and sunny feeling is really popular for Spring and Summer this year," Jennifer advises.