How to Wear Glitter Body Art
4 Tips For Wearing Glitter Body Art Without Looking Cheesy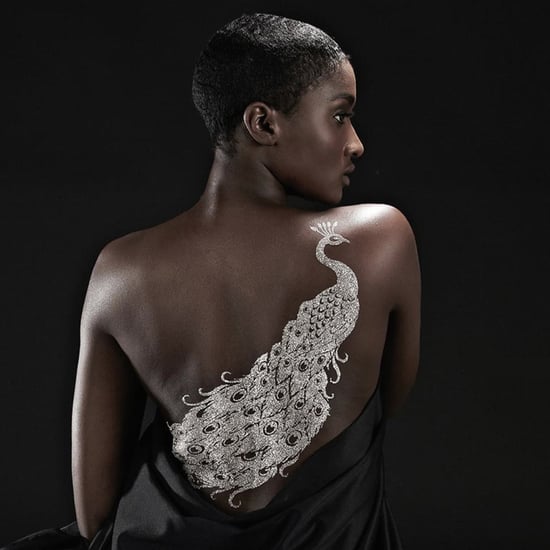 Glitter body art might not be the first cosmetic you grab in the morning, but thanks to improved designs and formulations, it's becoming less street fair and more decorative flair. Beauty brand G The Body Art Professional will soon launch spa- and salon-only services, where clients can get anything from butterflies to peacocks to faux bracelets and necklaces stenciled onto their bodies. And with Halloween and the holidays on the horizon, now's the time for shimmery body art.
"We use a refined, cosmetic-grade glitter, which allows the tattoos to lie flat to the skin with a smooth, soft finish," explains the company's vice president of sales and marketing, Beatrice Fogle. This means longer wear and reduced transfer. But whether you head to the salon or purchase a glitter body art kit for at-home use, there are a few key steps that ensure your temporary tattoos stay on your body and not on your clothes.
1. Before you apply:
"You need to make sure that your skin is free from any oil, lotion, or moisturizer," says the line's resident makeup artist and business development director, Au Mauricio. "It's best to wipe the area with alcohol to prepare the skin for the stencil, glue, and glitter."
2. Where to apply:
"This is what I love about the product," says Mauricio. "You can put a really small star behind your ear — like a trendy tattoo — or you can put a cascading cherry blossom design from your neck down your chest. You can [even] put a full-back design to complement your backless dress, or you can wear it like a gorgeous neckpiece for an evening affair."
3. Keeping it on:
"To keep it looking fresh as long as possible, take care not to apply lotions, creams, or products, like toners or nail polish removers, to the tattooed skin," recommends Fogle. While you can still use soap on the tattooed area, avoid rubbing the glitter when showering so that the particles don't loosen and lift away from the skin.
4. If you're feeling a little gun-shy:
Not sure if glitter body art is your thing? "Try a small design on your ankle or shoulder, or one of our demure bracelets," Fogle advises. "You can also have confidence knowing that while your glitter tattoo will last about a week, you can remove it immediately if needed."