How to Wear a Glittery Green Eye Shadow 2010-06-02 12:59:10
A Fun, Unexpected Way to Wear Green Shadow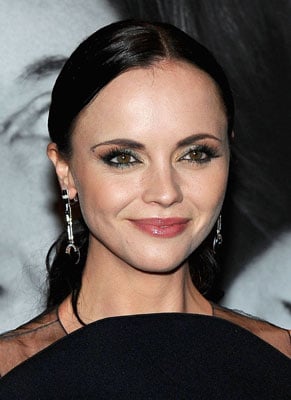 Christina Ricci has always had a bit of an edge, and that's exactly what NARS makeup artist Francelle aimed to bring out at the closing of Marina Abramović's "The Artist Is Present" at the MoMA. "It's all about the eyes," said Francelle. "We kept them classic but infused edginess by adding green tones." The noir-inspired look was paired with matte foundation and NARS Lip Gloss in Harlow ($24), a silvery mauve. Get tips on how to do Christina's infused-with-green eye makeup when you read more.


Line the eyes with a smudgy black-gold eye pencil. Christina wore Soft Touch Shadow Pencil in Aigle Noir ($24).
Next, apply a chocolate-brown shadow to the outer half of the lids, extending above the crease. Francelle used Eyeshadow in Galapagos ($23), which is infused with gold flecks.
Finish off by applying Duo Eyeshadow in Misfit ($32), which includes a shimmery ecru tone and a glistening emerald, in the inner corners of the eyes. Blend the shades together to control the intensity and customize your glittery green look.