How to Wear Gold Eyeliner
2 Ways to Wear Gold Eyeliner (and One Way Not to)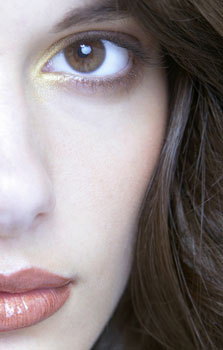 According to the classic tune, everyone wishes for silver and gold, but strangely enough, eyeliner was not mentioned in said tunage. (Perhaps just an oversight.) At any rate, earlier I shared a few tips on how to wear a silver eyeliner, so let's move on to the gold. I asked celebrity makeup artist Brett Freedman (who has worked with stars like Vanessa Hudgens, Jessica Biel, and Emily Blunt) for his advice on going golden. See his tips when you keep reading.


Taupe banana: For this look, Brett suggests starting out by applying a taupe shadow on your lids and creases. "That way, you have this matte anchor," he explains. Next, use a glittery gold liquid liner, like Sephora's Glitter Eyeliner in Gold ($12), applying it very close to the lash lines. Finish off by curling the lashes, adding some mascara, and tying it all together with a swipe of the taupe shadow on the lower lash lines, meeting it up to the outer creases.
Totally tear ducts: For a modified version of the look, apply pressed powder all over your lid with a sponge to create a matte effect. "Then, take a tiny brush and wet it and swirl it around in that gold shadow and use it as a liner," Brett says. He recommends getting really close to the lash line and swiping the color from the tear duct all the way to the end of the eye. "You do not have to be really exacting with a tiny brush," he explains. Once the color sets, it's easy to blend.
What not to do: When it comes to gold, the color should create a bit of depth and shimmer. Therefore, keep it on either the lash lines or on the lids, and not on the brow bones.