How to Wear an Icy Blue Eye Shadow For All Skin Tones
How to Wear Icy Blue Shadow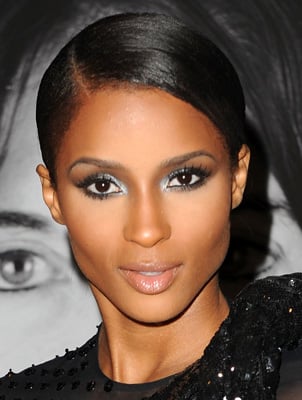 Just about every makeup collection around right now includes some sort of blue, whether it's a soft, silvery tone or a big bold turquoise. At the Museum of Modern Art, Ciara proved that the former shade, a shimmery pop of icy blue that often gets a bum rap due to its '80s roots, is actually quite stunning.
Ciara placed this light-reflecting shade in the inner corners of her eyes, complementing it with a contrasting matte brown shadow, bronzed cheeks, and glossy lips. Pale blues can be worn on all skin tones and eye colors, it's just about what you pair them with that makes a difference. For tips on how you can make this look your own, just keep reading.


For fair complexions: Try a shimmery blue-green shadow, like Bare Escentuals Eye Color in Bunny Hop ($13), or a cool baby blue, such as Bare Escentuals Eye Color in Bunny Hop ($13). You could also pair an icy blue shadow with a subtle pink or soft lilac on the lids. Just be sure to emphasize the eyes with a dark charcoal, smoky brown, or deep blue liner to anchor down the look.
For medium-toned complexions: A true silvery-blue, like Bobbi Brown Metallic Eye Shadow in Iced Blue ($20) looks beautiful against medium skin tones. To create a fun contrast, pair it with a gold- or dusty rose-toned shadow.
For darker complexions: Take a cue from Ciara and blend an icy blue with a punch, like MAC Eye Shadow in Moon's Reflection ($14.50), with a matte copper or bronze shadow.
For all complexions: Round out your icy blue look with a pink-brown blush or warm bronzer and a pink or peach lip gloss.