How to Wear Natural-Colored Nail Polish
How to Make the Barely-There Nail Color Trend Work For You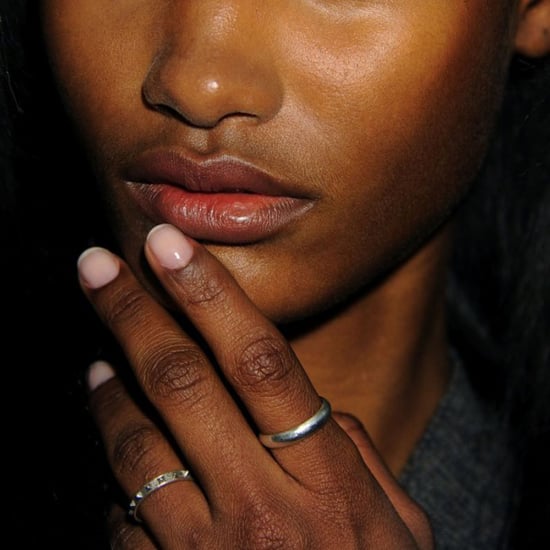 The most fashion-forward manicures this year aren't necessarily the nail art and bright colors we've come to expect. Instead, the emerging look has trended towards delicate, translucent, and creamy. It's almost as if the shades match the natural color of your nail bed. While it's a beautifully understated look, it's not exactly forgiving. Sheer polish doesn't cover up imperfections the way its more opaque brethren do, and not every polish shade is going to flatter your skin tone. So how can you wear the trend even if you don't have a professional manicurist on hand? Learn tips for perfect transparency when you keep reading.
Follow Your Undertones
When you're shopping for a sheer polish, make sure it coordinates with your undertones. If your undertones are cool, look for a baby pink shade. If they're warm, beige or peach will probably flatter you better.
Buff and Base
Having a perfectly smooth nail surface is much more important with transparent colors than it is with normal opaque polish, because discolorations don't get covered up. Even ridges or nicks in your nails will stand out even more. So before you even think about applying polish, give your nails a good file and buff. And whatever you do, don't skip out on your clear base coat.
Use Thin Coats
It's difficult to apply nail color perfectly evenly, but polish jobs that are thicker in some places than other are easy to cover up when your polish is opaque. Not so with the more transparent polishes, which is why it's best to use the thinnest coats and most controlled strokes you can. That way, you don't end up with nails that are more opaque in some places than others or have a splotchy finish.
Don't Judge a Bottle by Its Color
Pastels and other seemingly "sheer" shades aren't always actually sheer; some even look chalky after they set. While light and opaque has its place, to get on this trend, think see-through instead.
Source: CND