How to Wear Red Lipstick With Red Hair
Proof that Redheads Can Wear Red Lipstick, Too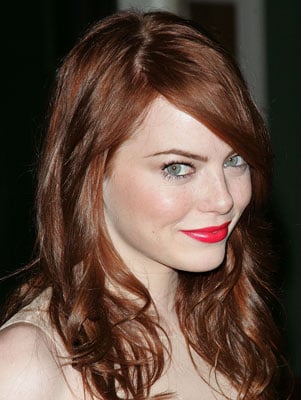 Whoever said redheads can't wear red lipstick? It's a common misconception, because redheads actually look quite stunning in a red lip. However, the general rule of thumb is to find your right shade of red based on your skin's undertones. Let's look at Emma Stone, who wore this cooler-toned strawberry-red to a screening of Paper Man. While she has warm coppery locks, her more neutral skin tone and cool, icy eyes make the look work.
If you're confused about which red to pick to complement your red hair, don't fret. Get some tips on how to make a red lip work when you read more.


No matching: Matching your red hair color to your red lipstick can wash you out. Instead, pick a red that's richer in intensity and hue.
Cools and warms: If you have cool or pink undertones, look for a plummy, wine, or blue-red lipstick. If you have yellow undertones, go for red-oranges, corals, or red-browns. Those with neutral tones can usually go either way, but a cherry red, scarlet, or true red is almost always a flattering choice.
Bright or deep?: If you're very fair-skinned, try a brighter lipstick. For deeper complexions, try a red with richer pigments.
Easy on the eyes: To balance out the bold red on your lips, avoid going overboard with eye makeup. Beige, pearl, or champagne eye shadow are the perfect choices. Be sure to apply a few coats of brown mascara (black can be a bit harsh on redheads) to the top and bottom lashes so that your eyes don't get lost in the shuffle. To pull your look together, a sweep of blush in the same color family as your lipstick is flattering.
Dress for success: When pairing red lips with red hair, keep your outfit colors on the more neutral side to avoid clashing.
When in doubt: Women with really bright red hair look beautiful in blue-reds, while women with deeper auburn tones look gorgeous in warmer reds. If you still aren't sure, just experiment. The right shade of red will make your entire face glow.
And if you're still not sure: Do you have blue, gray, or green eyes? Try a cooler red lipstick like Emma.