How to Wear Ribbon in Your Hair
3 Ways to Wear Hair Ribbons (Without Looking Like a Kid)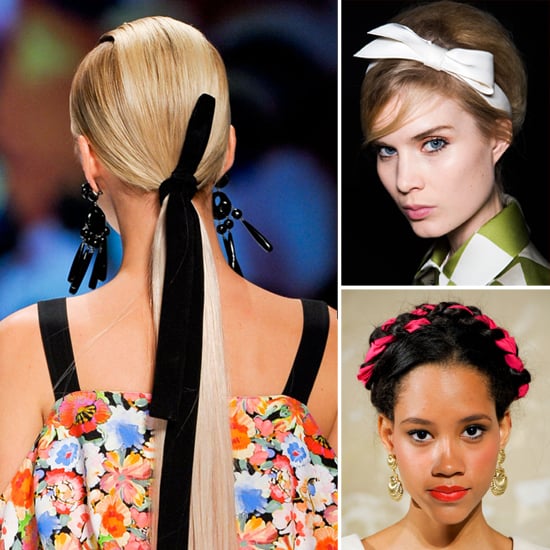 The last time you wore a ribbon in your hair, you were likely sporting pigtails and braces. Ribbons don't have to evoke a grade-school vibe, though. Ribbons in velvety, ribbed, and silky varieties have even been spotted on recent runways, and with good reason. When done right, this unexpectedly chic accessory provides a simple way to dress up your hair for any holiday occasion. To get hair ribbon ideas that are the antithesis of juvenile, read on.
1. Around a ponytail: If you want to feature a ribbon as an accent to your ponytail, skip the bow, which can skew more schoolgirl than seductive. Instead, let the tendrils hang or wrap them around the base. You can also wrap the ribbon from the base to the ends of the ponytail for a look that's Kentucky Derby-meets-Fifty Shades of Grey.
2. As a headband: Making your own "headband" with a ribbed ribbon is easy. Simply wrap it around your head from ear to ear, and tie it in a bow or knot toward the back. And if you're a DIY beauty maven, glue a bow or brooch to a ribbon for an added embellishment.
3. In a braid: Weave a printed fabric or a silky ribbon into a braid for a stylish addition to a classic trend. To get the look, attach one to three strips of ribbon into a ponytail using a rubber band. Then incorporate into each section of your braid. Finish by pinning your braid into a milkmaid style or bun.