How to Wear a Silver Eyeliner
Silver Lining: 5 Ways to Wear a Silver Eyeliner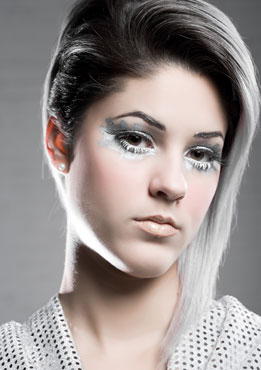 Everyone has something a bit more unconventional in their makeup collection that seems to get very little use. For me, it's silver eyeliner. In the past two weeks alone, two sterling-toned liners have come my way, and I felt as if the universe was telling me something. Want to try out the pearly gray hue yourself? Check out five tips on how to rock a silver liner — without looking like an ice queen — when you read more.
As a highlighter: To perk up tired eyes, line the inner corners of the eyes with a silver liner. Think January Jones at the Emmys.
Waterlining: To brighten and open up the eyes, simply waterline the lower lash lines with silver.
Clean and simple: For a pretty, feminine look that will make your eyes pop, line the entire upper and lower lash lines with the lustrous hue. Apply a bone or soft beige shadow to even out any unwanted pigments in your skin, and top off with a berry-toned blush and lip color.
Duotone it: First line the lower lash line with a silver liner and smudge it. Then, line the upper lash line with a bronze or gold tone. Top off with some black mascara for some contrast.
Smoke it out: Give black liner a smoky edge by layering and blending a silver liner right over it.