How to Wear Wash-Out Hair Color
Get Sienna Miller's Rose-Gold Hair For NYE, No Commitment
As POPSUGAR editors, we independently select and write about stuff we love and think you'll like too. If you buy a product we have recommended, we may receive affiliate commission, which in turn supports our work.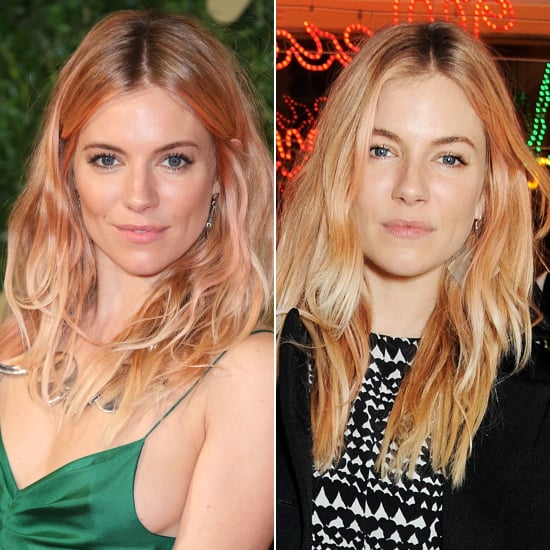 We were all speed-dialing our colorists when we spotted Sienna Miller's rose-gold hair at last week's British Fashion Awards (above left). But our happiness was short-lived, as Sienna stepped out for a Stella McCartney party just two days later looking like most of her color had washed out (above right). But the inspiration lives on, especially with New Year's Eve right around the corner — providing us with the perfectly festive opportunity to try out temporary dye.
Blondes like Sienna can adopt her rose-gold color by using just a touch of pink dye, while ladies with darker locks might reach for a pink that's just a bit brighter — or play with new colors altogether. To get a dye job like Sienna's, focus the pigment on the middle section of your hair, keeping the hue out of your roots and away from the ends. This will add just a touch of color in an edgy, unexpected way. Then, when you're ready to be done with the color, simply shampoo and carry on with your natural color. Shop our favorite wash-out colors below!