How To for Wedding Hairstyles Ballerina Bun
Wedding Hair Helper: Get a Classic Side-Parted Bun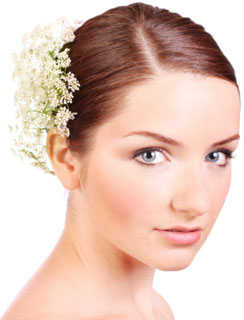 If you're considering creating your own wedding hairstyle, we've got some awesome professional help for you. Avon Global Stylist Advisor Tippi Shorter has given us full breakdowns on how to get some timeless bridal styles on your own. For this installment, she's given us easy steps for creating the demure side-parted ballerina bun. So to find out how, just keep reading.
To create the perfect canvas for a defined part, start with clean, smooth hair.
Apply a hydrating serum, like Advance Techniques Dry End Serum, to the ends of your hair, and a smoothing balm, like Advance Techniques Super Straight Smoothing Balm, from root to tip.
Using a large paddle brush, blow dry your hair straight.
Use a comb to create a defined part on the side of your head.
Pull all your hair into a tight, sleek bun at the back of the neck to make the part really stand out.
Spray on a light mist of weightless shine spray to create a high-sheen finish.