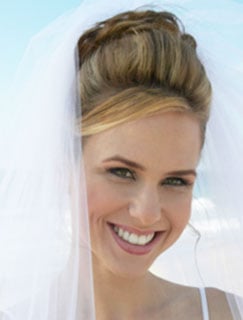 Want a gorgeous wedding hairstyle, but can't head into the salon? Avon Global Stylist Advisor Tippi Shorter is here to help, with the full lowdown on how to get easy, classic wedding hairstyles. In this installment, she's given us a step-by-step explanation of how to get the popular voluminous updo style, which looks great under a veil. So to find out how you do it, just keep reading.
Start by applying Advance Techniques Anti-Frizz Capsules on damp hair to create the foundation for building sleek, frizz-free texture.
Layer volumizing mousse on hair to give hair an extra boost.
Blow-dry your hair in small sections with a large-barreled round brush. Wrap your hair tightly around the barrel and aim hot air directly on it until it's totally dry.
Once all your hair is dry, backcomb the top section and pull it back to the center of the back of your head.
Secure it in place with bobby pins.
Take the remaining hair and secure it in a loose, messy bun at the nape of your neck.
Finish the look with a light spritz of high-hold hair spray.