The Hunger Games: Katniss Everdeen Halloween Costume
Easy Halloween Costume Idea: The Hunger Games' Katniss Everdeen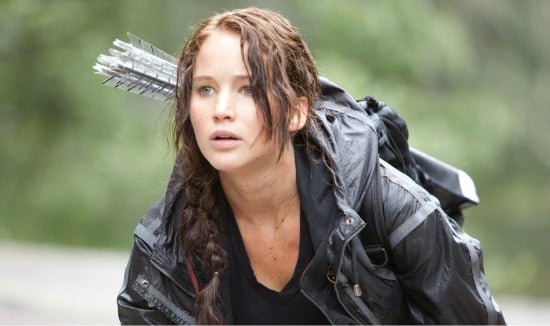 The costume: Katniss Everdeen
Need a quick, easy Halloween costume idea? Look no further than District 12, home of The Hunger Games heroine Katniss Everdeen. We know what you're thinking: Isn't that book series for teenagers? Yes and no: though teens were its initial target audience, the strong sociopolitical commentary and action-packed drama appeal to readers of any age. (Seriously, a friend with a PhD in English Literature can't stop talking about the trilogy.) Creating a Katniss costume is a simple, 10-minute project.
Hair and makeup: Arrange your hair into a long braid (here's how) and make it look dirty with some hair wax. Katniss has an olive complexion, but if you don't, apply a bit of matte bronzer to fake some sun on the cheeks.
What to wear: An earth-toned hoodie and boots will provide a basic Katniss uniform, and you'll just need a little craftiness to add the props. Check secondhand shops for a bird brooch that can function as a Mockingjay, and create a quiver out of some twine and a cardboard tube mailer.
Take it to the next level: If you wear contacts, this is a great excuse to try gray lenses to match Katniss's eyes. No matter how you customize the costume, may the odds be ever in your favor.