Inexpensive Argan Oil From New Beauty Brand Melvita
Beauty Jackpot: Inexpensive, Ecocert, Fair Trade Argan Oil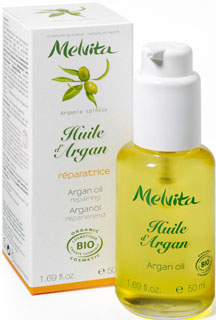 You've probably heard people raving about argan oil: It absorbs like a dream, is extremely hydrating, and is even supposed to be great for repairing free radical damage. Unfortunately, it's usually pretty pricey, and the cheaper versions available are often adulterated or just plain low quality.
Happily, eco-friendly line Melvita has seriously underpriced its rather amazing Argan Oil ($24). In fact, it costs half what similar products like Josie Maran Argan Oil ($48) do.
The French brand, which just began opening storefronts in the US, is all Ecocert (the strict European organic certification standard), super high quality, and very reasonably priced. Melvita's also fair trade certified, and even stocks most of its products in cost effective family sizes. So if you're looking to go natural without breaking the bank, I highly suggest you check Melvita products out, before the folks behind the brand come to their senses and start jacking up the prices.