Interview With The Runaways Makeup Artist Robin Mathews
We've Got the Beauty Scoop on The Runaways!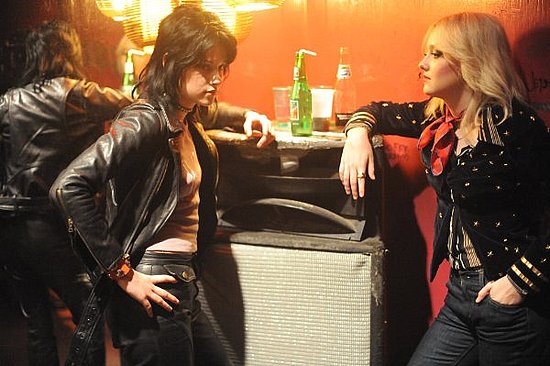 The Runaways hits theaters in just a few weeks, but I'm already getting inspired by the band's rocker-girl look: smoky eye shadow, black eyeliner, and a devil-may-care attitude. Robin Mathews, the film's makeup department head, worked with Make Up For Ever cosmetics to transform Kristen Stewart and Dakota Fanning into Joan Jett and Cherie Currie. We caught up with her to find out the on-set beauty secrets. For Mathews's behind-the-scenes scoop — including the truth about whether Kristen really slept in her makeup for the part — just read more.
How did you research the looks for Kristen and Dakota's roles?
I lined the makeup trailer with real photos of the band. You could barely see any of the walls or mirrors in the trailer because there were so many photos! I also had side-by-side photos of the real characters next to photos of the actors, so I could see what facial features needed to be sculpted to make them match.
Did you consult Joan and Cherie about their inspiration/goals from their Runaways days?
Absolutely! Having them on set and available to us had everything to do with the success of the movie. The makeup trailer doors were always open for them. We couldn't wait to see them when they came in! Just to be in their presence while re-creating them was surreal, inspiring, and unbelievably awesome.
I've read that Kristen slept in her eyeliner to get the look. Did you have any other unusual tricks or techniques?
Thank you for asking me that question, because it will allow me to clear something up. I was a bit misquoted there. One or two times, when Joan's character was in the depths of the wear-and-tear from the rock and roll lifestyle, we applied eyeliner overnight — because it needed to look realistic for the film — but no other makeup was left on overnight. No one should sleep in their makeup overnight. Kristen does not sleep in her makeup.
As the movie characters progressed in their lives and careers, did you shift their look?
Very much so. First of all, the girls all grow up during the movie. They start around age 13 and the movie ends with them in their 20s, so of course a physical progression is shown. The main progression I used, however, was whether they looked fresh, young, and healthy or had succumbed to the worn-out look of sex, drugs, and rock and roll, with too much time on the road. Dakota's transformation as Cherie is the most intense. Towards the end of the band's days together, Cherie had several meltdowns. I had to really work hard with makeup to get Dakota's flawless skin to look as terrible as it needed to look for those scenes.
Why do you think Joan Jett's smoky eyeliner look continues to be the iconic rocker-girl look?
Because she did it right. She is a pioneer. She paved a brand new path in the rock and roll industry, and once she found her look, she stayed true to it — even today. She knows who she is, and people admire her. Oh, and also, because she's badass.
What did the real Runaways think about the makeup?
I think they really liked it. I re-created all of the band's looks from real photos of them, so truly, they were the creators of the looks. As far as seeing themselves being played by the actors in full hair, make-up, and wardrobe on set, I think we all had our moments of staring for a minute and saying "Wow."
Got Runaways fever? Make Up For Ever is sending one fan to the premiere. Could be you, cherry bomb.