An Interview With Vidal Sassoon
45 Minutes With Vidal Sassoon: The Highlights
At 83, Vidal Sassoon, the original celebrity hairstylist, is as active and sharp-witted as ever. His documentary, Vidal Sassoon the Movie, is currently out in limited release, and his autobiography (which he penned himself) is set to be available in the US in April. And after 65 years in the business, he's still "got it" with his slightly flirtatious personality and keen sense of humor, making it practically impossible not to be charmed by the handsome octogenarian. When referred to as "Mr. Sassoon" on a recent call, for instance, he immediately quipped, "Everyone calls me Vidal, because Mr. Sassoon [his father] is the banker."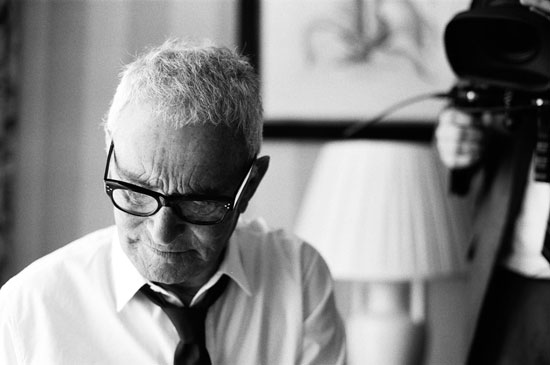 See what else Vidal had to say about the film, his inspirations, and more when you keep reading.
On his childhood career dreams:

"The last thing I wanted to be was a hairdresser. My mother insisted that she had a premonition that I become a hairdresser. I was far more interested in architecture. If I couldn't be an architect — a soccer player. If I couldn't be a soccer player — a gangster. But my mother took me in at 14 [to a salon to work] and the only thing that kept me there, besides her very strict administration, were the pretty girls. And the place was full of them, either as clients, or working there. So that helped me on my way to become a hairdresser."
On what drove and inspired him in the beginning:
"I knew in 1954 when I first opened my salon... that hair had to change. It was just so old-fashioned. When you look at the faces of some of those gorgeous women that were making films in the '20s and '30s, you thought, 'Oh, if we could have got to their hair.' Because much of it was so corny. It was beautifully corny, don't get me wrong. There was [just] something missing."
On what makes up the classic Vidal Sassoon cut:

"The general principle is to look at the client standing, the bone structure, the body structure, certainly the neck and the cheekbones, and see what comes from it. [It's to] see what comes to your mind and then suggest something to the client. Sometimes they won't buy it, but sometimes they'll say, 'I need a change. Go for it.' Now to do this you've got to be a superb cutter."
On how the Vidal Sassoon academies and salons today represent his vision:

"Fortuitously, every time I walk in a [Vidal Sassoon] salon somewhere — not that bad work is done at others — I'm thrilled with the sense of the fact that they've all learned the cutting and the shapes and the angles. I get a great kick out of it that it's lasted all these years, because we've never let the quality go down."
On discovering that his dear friend Michael Gordon, founder of Bumble and Bumble, wanted to make a documentary about him:

"I said, 'You're going to need quite a few dollars, Michael, and you're going to need a professional staff.' He said, 'I've got both.'"
On whether or not he had concerns about the documentary overall:
"I knew that because of the quality of Michael, it was going to be good... I didn't question it in my mind one bit. You know the older you get the more fun you have. They thought I was crazy. There I was writing a book, working on the movie, and one helped the other... The movie part was quite marvelous because it wasn't always people saying well little things about me. There was one guy saying, 'I couldn't work with him; he was crazy.' And I think that's nice. And he gave the reasons why he thought I was crazy. So, if I was to advise young people I would say, 'Just get on with it. Just do it, whether the others like it or not. Get on with it.'"
Be sure to stay tuned from more from Vidal, including some great stories and anecdotes from his years in the beauty industry.
Photo courtesy of Phase 4 Films