Jaime King's Hairstyle at the 2010 TCAs
Get Jaime King's Braided Updo Style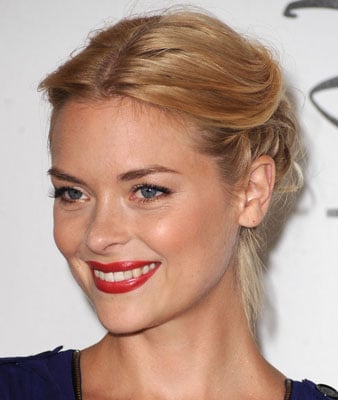 Even though braids are a classic style, there's always a new way to wear them. At a TCA party over the weekend, Jaime King sported this multibraided updo. It was sleek and polished in the front, but tousled and textured with plaits in the back. Get tips on how to style it yourself, along with more pictures, when you read more.
Blow-dry hair using a round brush and a gel to enhance texture and shine, like Philip B. Hair Styling Gel ($19).
Separate the hair into three sections: a horseshoe-shape top section (from the top of the temples to the crown), a middle section (from the temples to the occipital bone), and bottom (from the occipital bone down to the nape).
Now, start styling the middle section. Create French braids on each side (starting at the temples) so that they meet in the middle of the back of your head. Secure each braid with elastic bands and anchor them down with bobby pins.
Next, work with the bottom section by twisting hair up and pinning over the tails of the braids to cover. Tuck any loose ends over and pin. This will create fake "curls." You'll probably pin up about two to four sections, depending on the thickness and length of your hair.
Finish off by creating a middle part on the top section. Pull back these front sections of hair toward the back, pinning into the previously pinned sections to secure. Don't be afraid of letting the pins show through. Also, be sure to pin back sections of varying thickness for a cool finish.