Jane Krakowski Talks About Skin Care
More From Jane Krakowski on Self-Tanning, Showing Skin, and Singing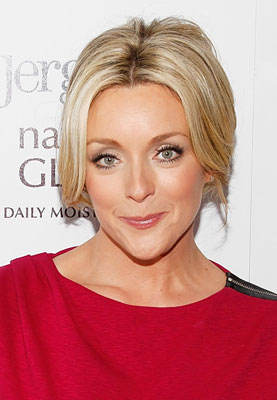 What's your favorite way to "tan" safely? Perhaps you're a bronzer girl all the way, or maybe you bust out the self-tanner the minute the temperature rises one-half degree above 60. Whatever the case, 30 Rock's Jane Krakowski wants to you go about getting your glow on in a smart way. Jane, who has partnered up with Jergens and The Skin Cancer Foundation, recently talked about her involvement with the cause. Find out more about what she likes about self-tanning, along with what's up next for the actress and singer, when you read more.
Have you ever had any self-tanner mishaps?
I've never actually used any self-tanners because I always thought they seemed too complicated to use or too likely for something to go wrong. I didn't want to take that chance, so I've never really been a part of any of that. Since I've been working with Jergens and using the Revitalizing Daily Moisturizer, I find it so no-fuss. It's actually really simple, and because it's a gradual glowy color, you can't suddenly get stuck with those weird marks or all the other stuff that comes with other types of products.
Now that you've been "tanning" the healthy way, are there certain things that you've done to change your makeup routine or your clothing choices?
We're coming into Spring and Summer and we're taking off the tights and having our legs back out again. I think that's what changes, that you feel like, "Oh, it's the season that we start doing all this again and start revealing more skin." Hopefully [we're] looking as healthy and glowy as we can.
What's coming up next for you?
I've been singing a lot and have been doing a lot of concerts and I'm touring around with this show that I did at Feinstein's last year, so I'm going to be doing that for a lot of the Summer. I have a record coming out in May that is a live recording of the show that we did that we're now touring around with. That's the main thing I'm focusing on right now.