Janelle Monae Makeup Tips
Janelle Monáe: "Embrace the Things That Make You Unique"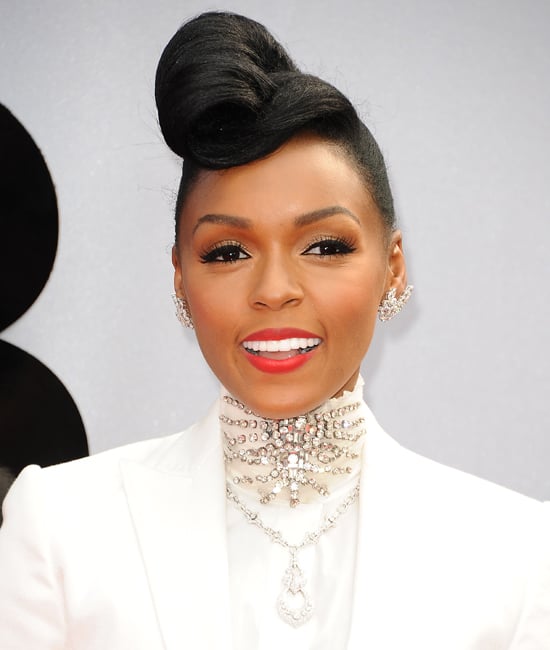 When it comes to her music and her style, Janelle Monáe is in a league of her own. And as a CoverGirl, she embodies (and welcomes) everything that it means to be different and distinct. "I think it's important to embrace the things that make you unique, even if it makes others uncomfortable," she tells us. "I think that we are embracing our unique abilities and superpowers of being electric ladies."
On her sophomore studio album of a similar name, The Electric Lady, Janelle includes many feminine anthems, featuring the vocal talent of singers such as Erykah Badu and Solange Knowles. She even pays homage to one of her beauty icons on the disc with the song "Dorothy Dandridge Eyes." "I try to keep a classic look all around," she says. "Dorothy Dandridge is definitely someone that when I do CoverGirl shoots, I use her as my inspiration. I love her makeup look."
Janelle reveals her lipstick essentials and her best makeup advice when you read on.
With such a sophisticated style, it's no surprise that Janelle's favorite lipstick is CoverGirl Lipstick in Hot ($8). "I never know when I'm going to be at an afterparty or having to go on stage or take photos, so having that red lipstick with me really does help," she says. Some of her other on-tour beauty essentials include organic shea butter for her hair and Olay Wet Cleansing Cloths ($5) to clear her pores after a night on stage. But all in all, Janelle is following the healthy skin handbook to the letter. "I exercise. I try to eat a lot of green vegetables, and I drink a lot of water. I can literally drink like 10 bottles of water a day, especially if I'm on tour. And I think it's safe to say that when you're peaceful and more zen, your skin is reflective of that."
Aside from a lifetime supply of her favorite crimson shade, being a CoverGirl comes with other perks, like getting personal makeup advice from the likes of runway makeup artist Pat McGrath. "One of the tricks she taught me to keeping the red lip on for a very, very long time is to line the entire lip with the red lip pencil. Then, apply the lipstick on top of that, and that keeps it cemented."
Don't be mistaken. For Janelle, her role as a beauty brand ambassador means more than being a pretty face. "I hope to impact an audience of young girls who are trying to cultivate their images," she says. "Hopefully, me being a CoverGirl, a representation of an African American, and just a woman, inspires or encourages the next generation of young girls that really don't understand how they fit into society to feel very confident in who they are — and know that there are doors that are being opened for them."