Jared Leto [1]'s hair is a riddle we've been trying to work out since he bestowed his ombré mane upon us last year. How is that color so perfect? How does he accomplish that bedhead texture? How does he have us paying as much attention to his hair as we pay to the leading ladies showing face during award season? To try to comprehend the mystique of Jared's strands, we've taken a look back at all his best hairstyles, from the pink mohawk to the Beatles cut to his most recent long braid at the Golden Globe Awards [2]. Just ready scrolling for pure Jared magic.
1995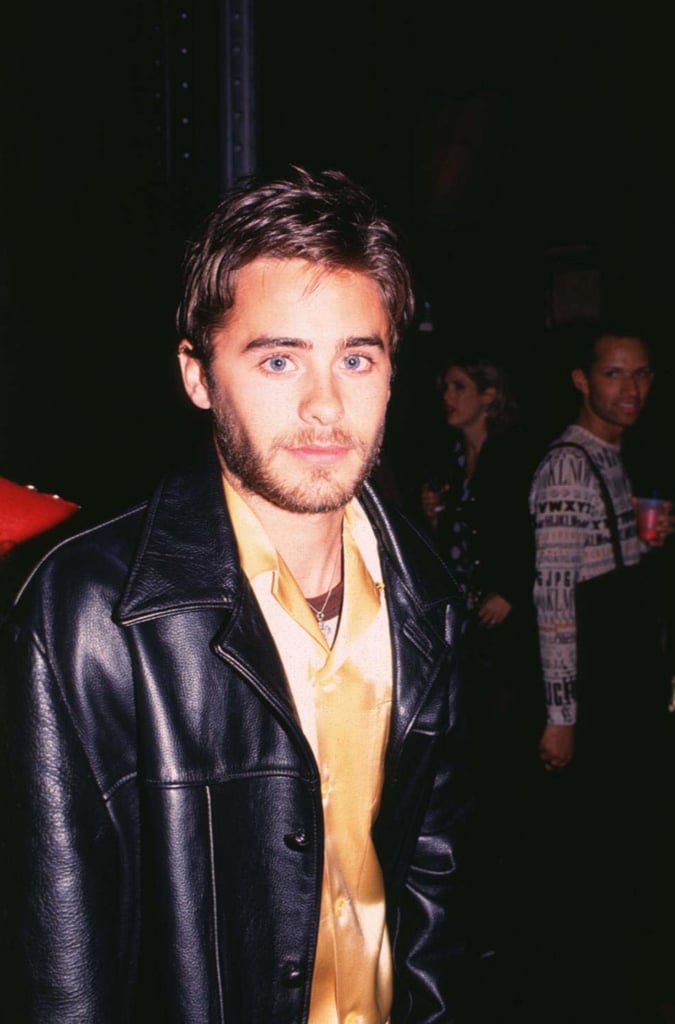 How Jordan Catalano in My So-Called Life is Jared in this photo? He can't hide that baby face under all that scruff!
2000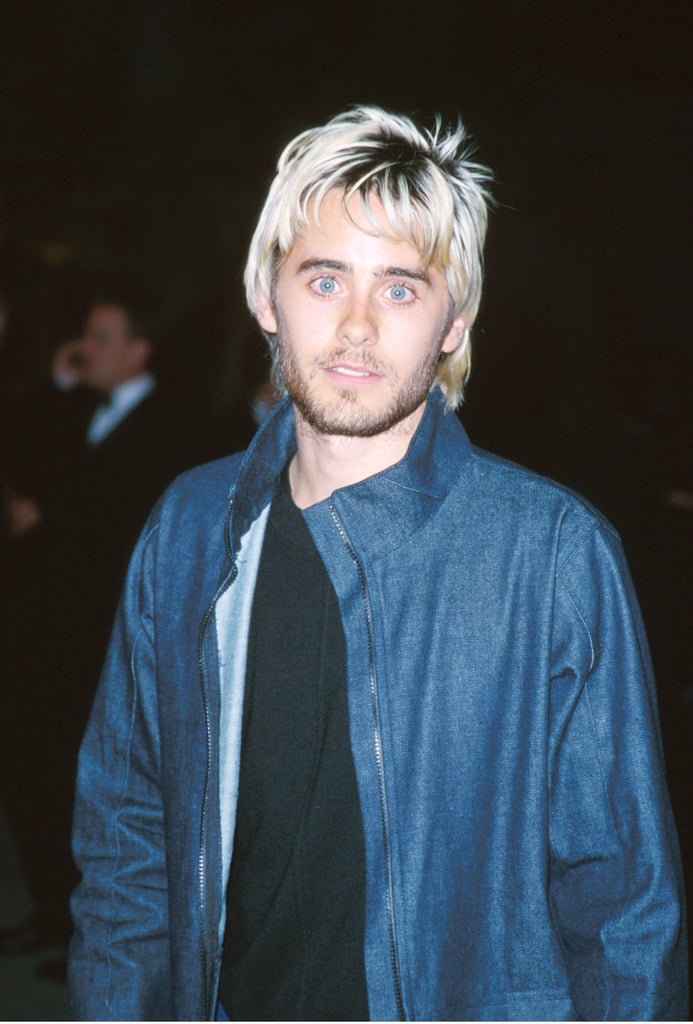 Somehow, that peroxide-blond-between-dye-jobs hair color looks gorgeous with Jared's blue eyes (and matching-hued jacket).
2000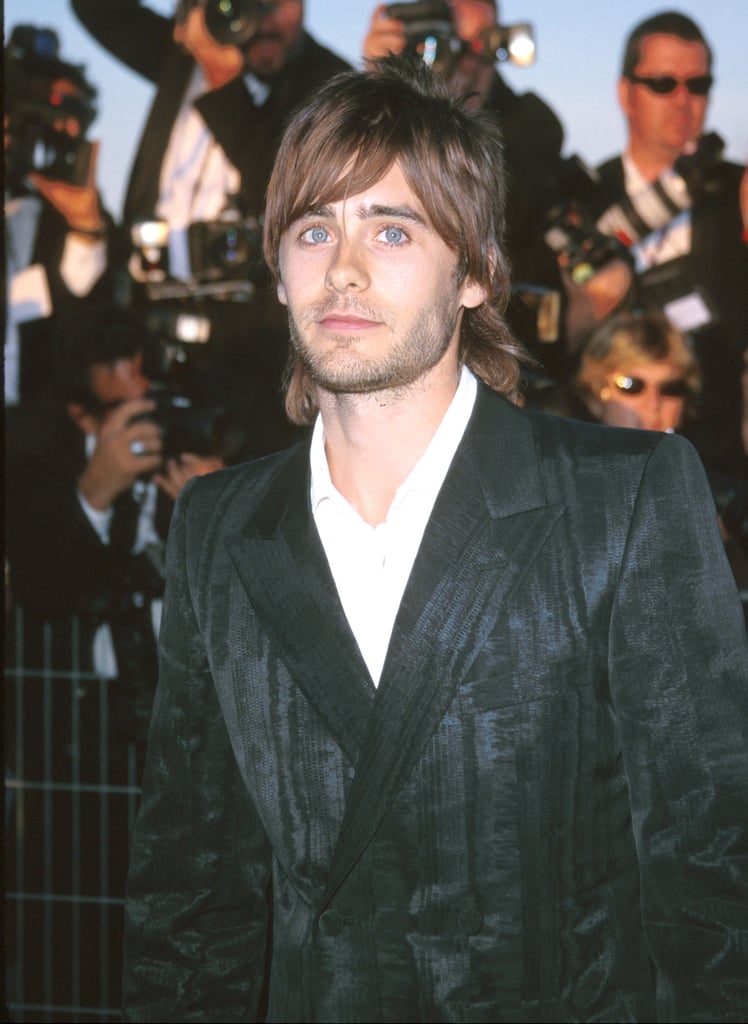 Before there was Bieber . . . there was Jared. On anyone else bangs and a mullet would seem silly, but on Jared, we'll go with "hipster chic."
2001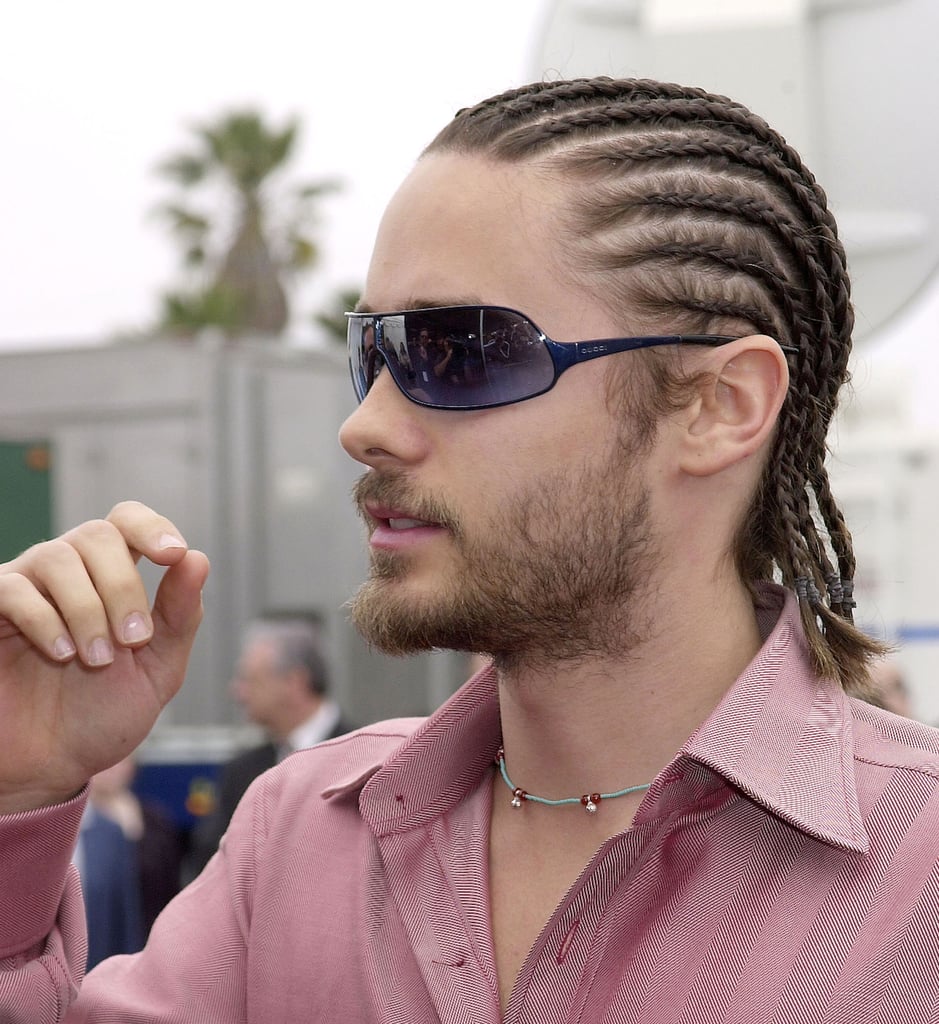 Let's be real: 2001 was a weird year for a lot of us when it came to our hairstyles. But it's comforting to know Jared also went through an awkward phase with these cornrows.
2002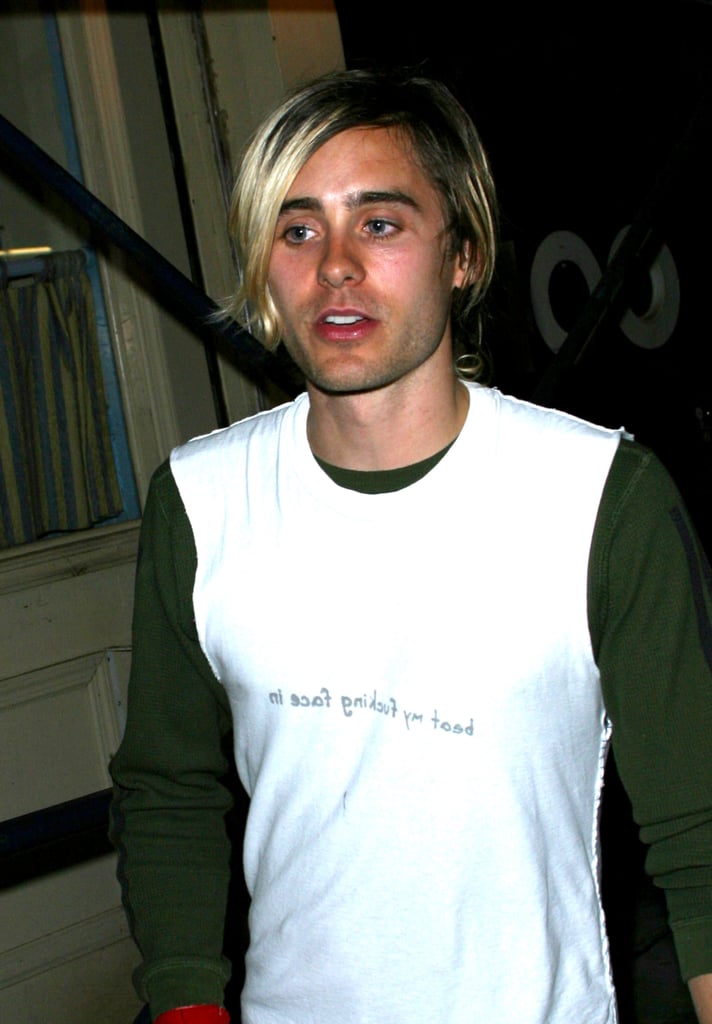 Hey Jared . . . do blondes have more fun?
2004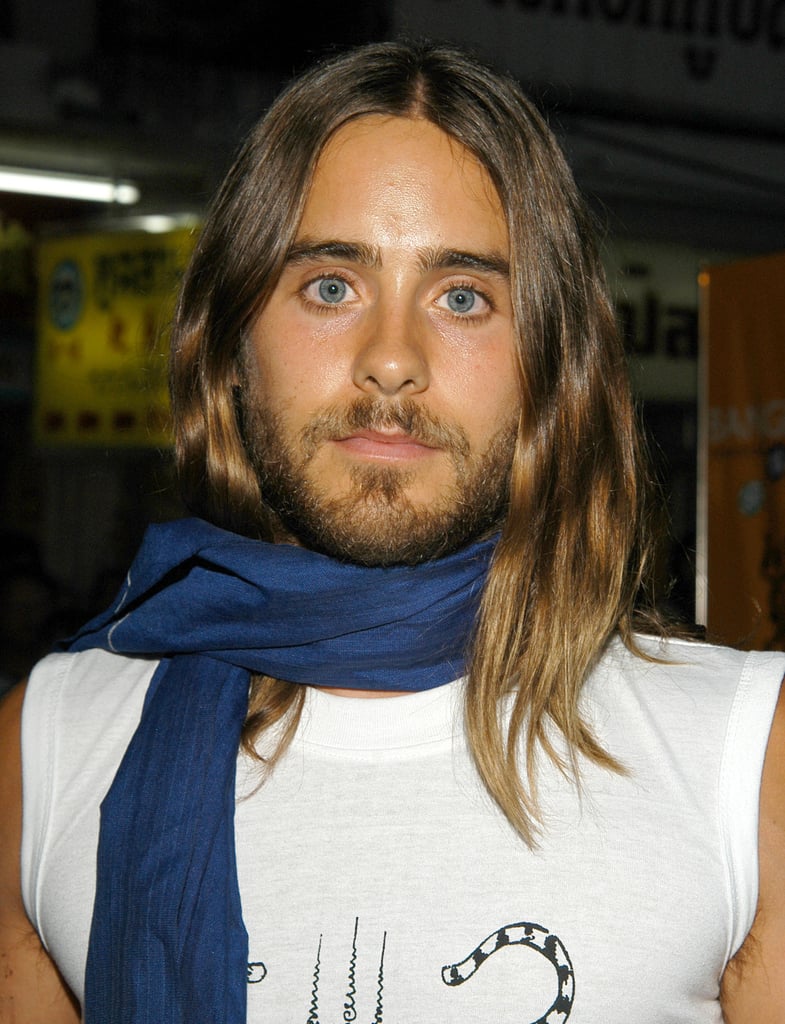 A sign of things to come? Jared has some envy-inducing beach texture and a slight hint of ombré in 2004.
2004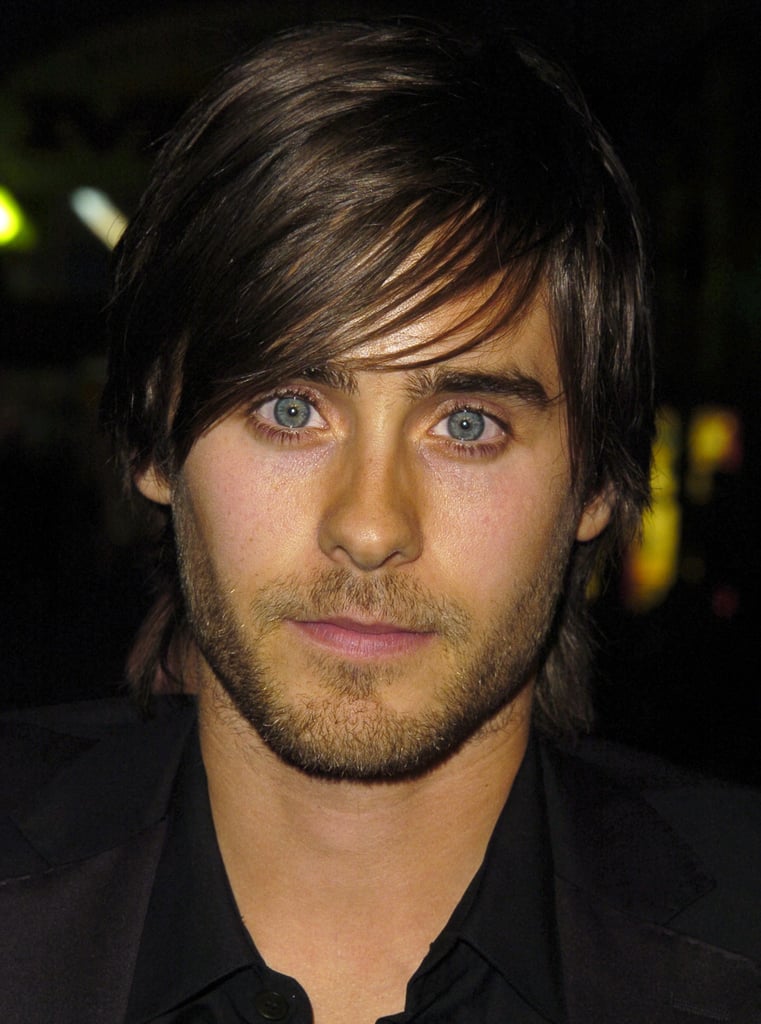 Oh, and the Bieber fever is back. In 2004, he mastered the art of the sideswept bangs.
2005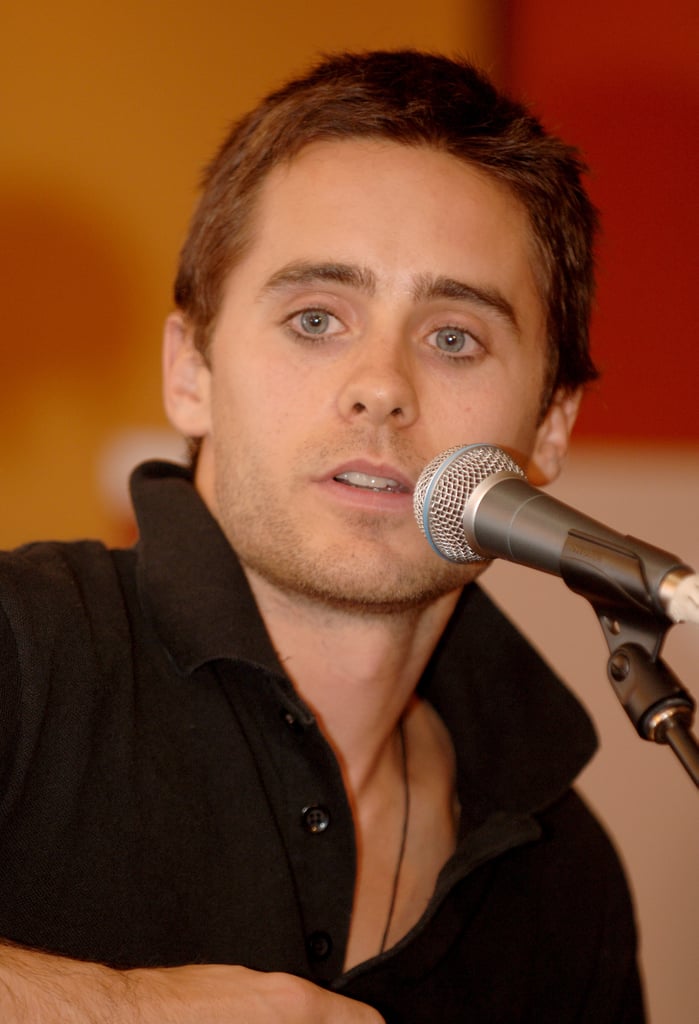 Jared cut it all off in 2005, and the women of the world wept in despair.
2006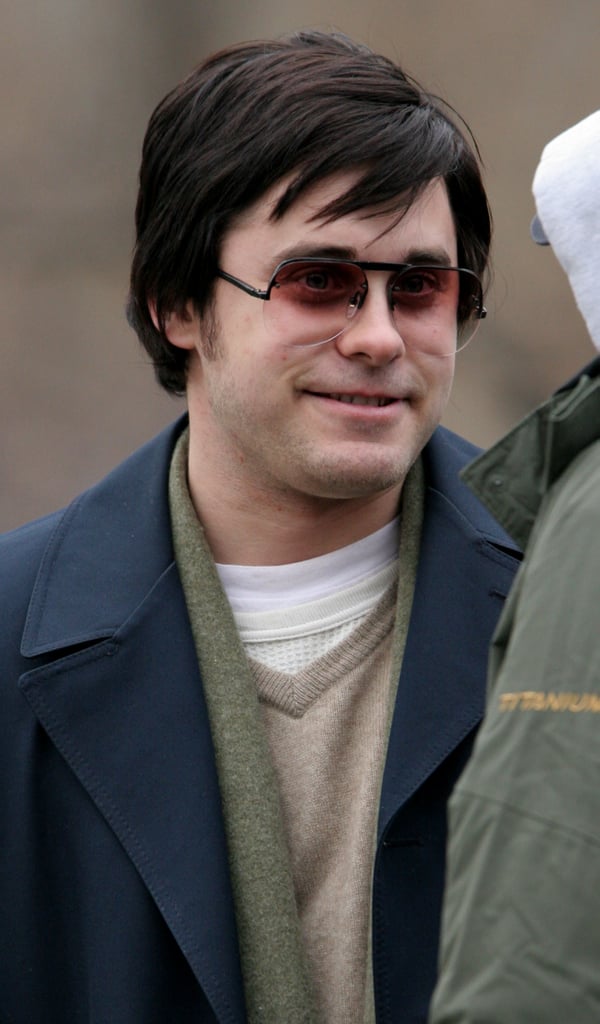 On location for Chapter 27, Jared took his hairstyling cues from dads everywhere.
2006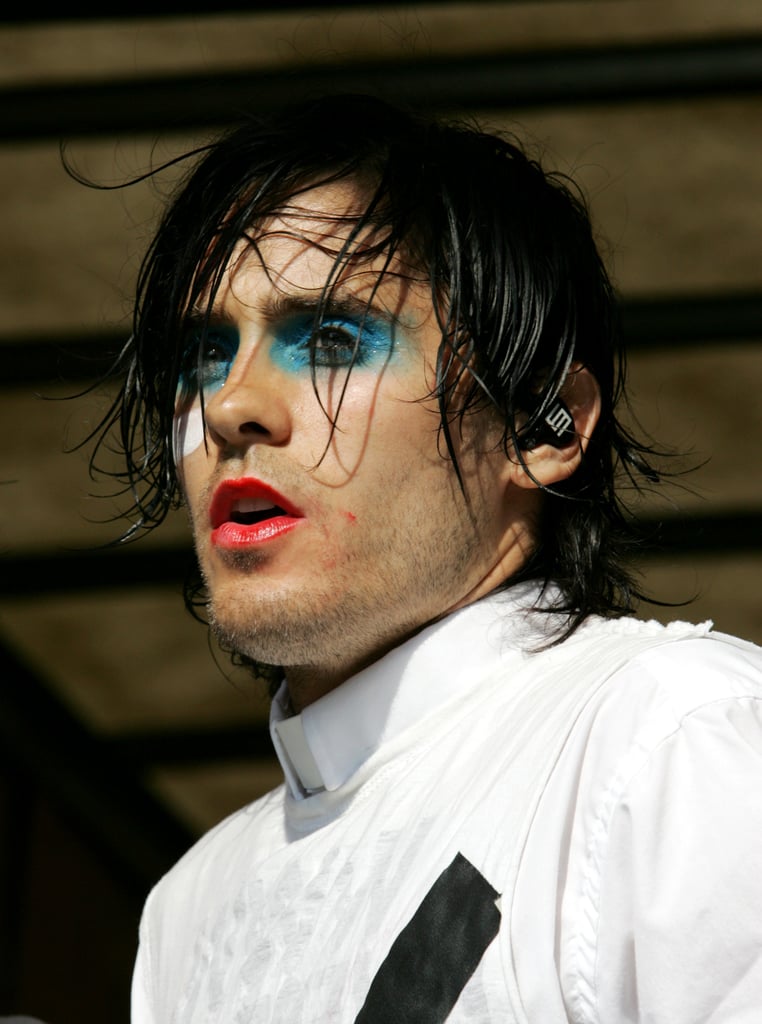 If there's one thing we can say about Jared, it's that the guy doesn't have a fear of color cosmetics. And of course, he artfully pulled off the wet-hair runway trend.
2006
Even Jared went through an emo phase. Just look at his red locks and eyeliner (guy-liner?)!
2007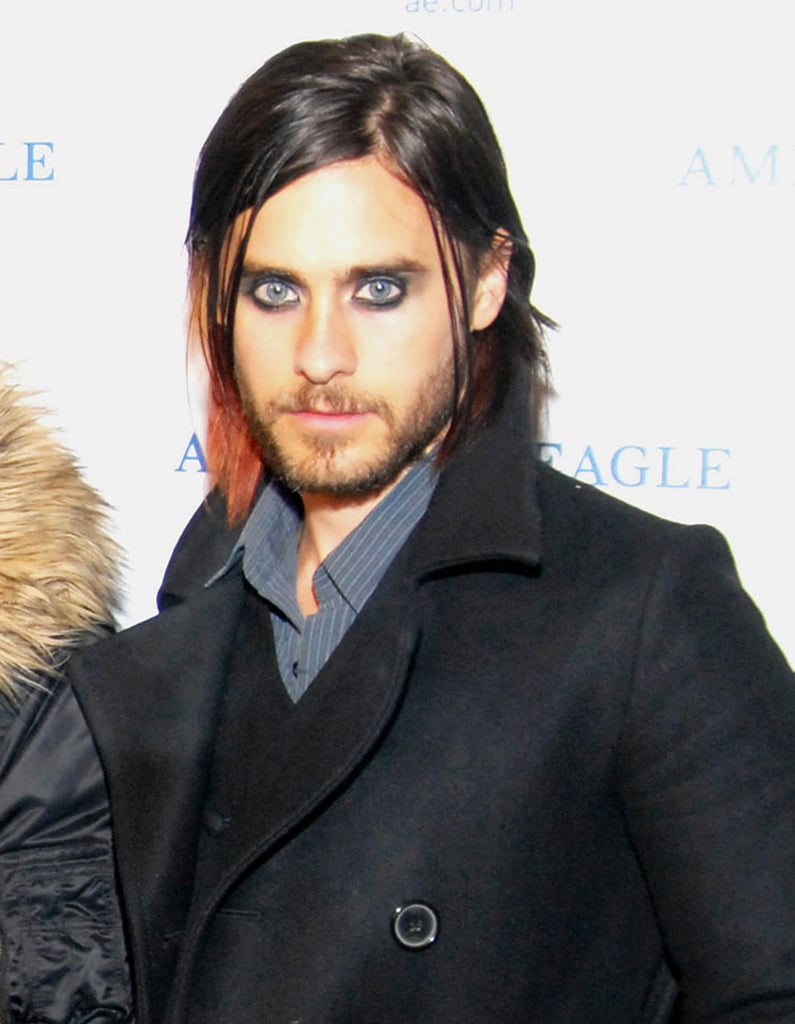 The eyeliner makes a comeback, but this time it's blue and smoky. Meow!
2008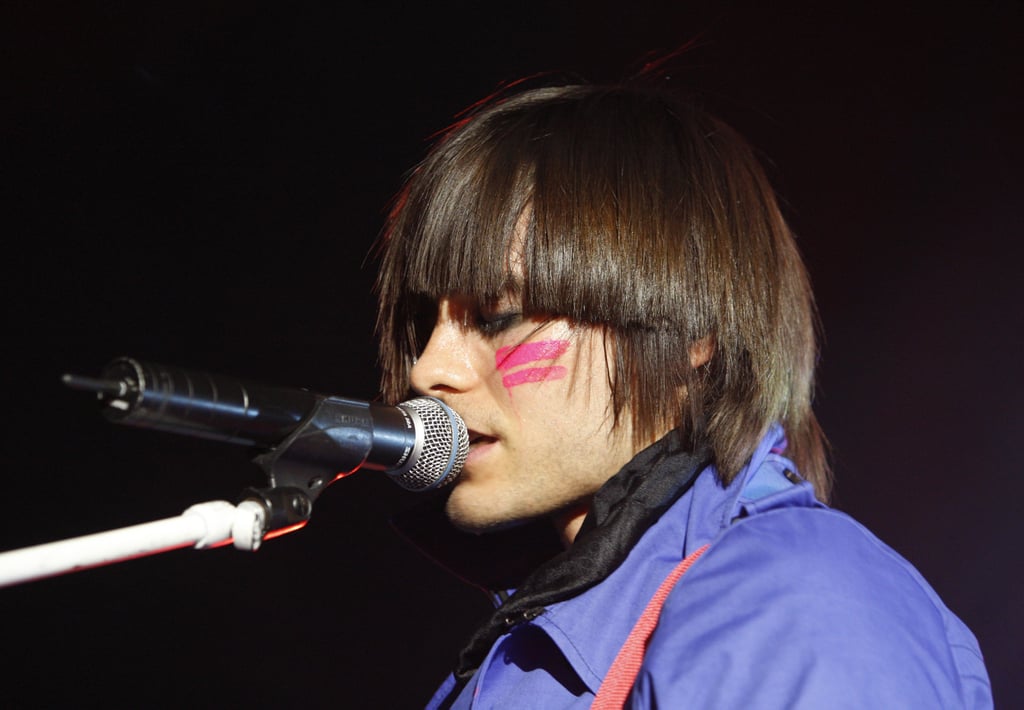 Remember that one time Jared had a Beatles-style bowl cut? And of course he added some hot pink war paint. This overall look makes us want to start the hashtag #WWJD (What Would Jared Do?).
2009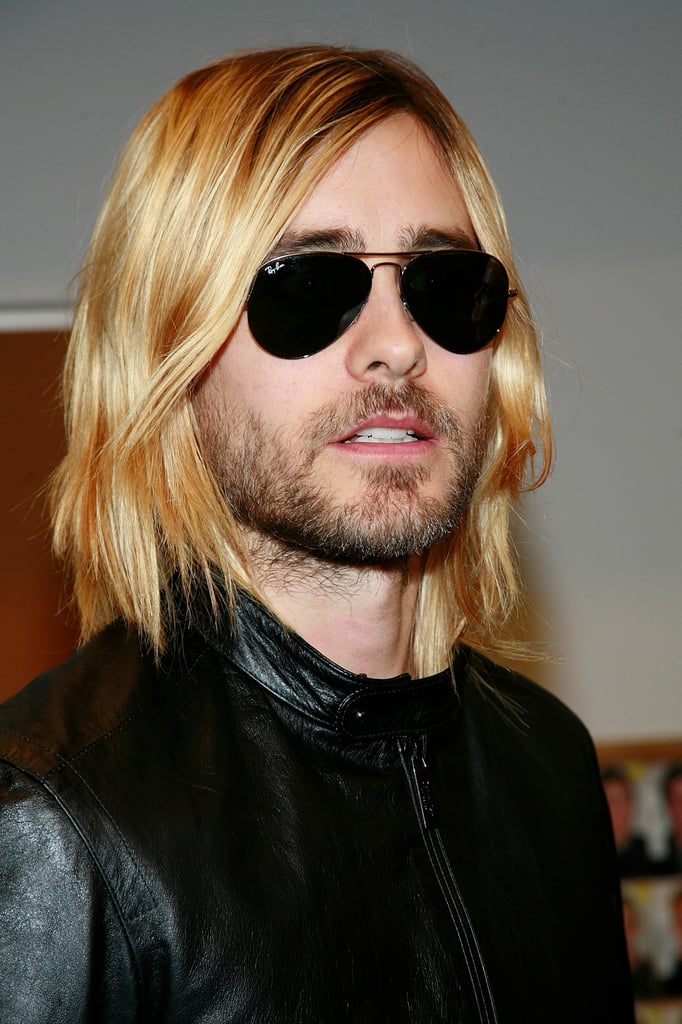 Jared gave us his best Kurt Cobain impression at New York Fashion Week.
2009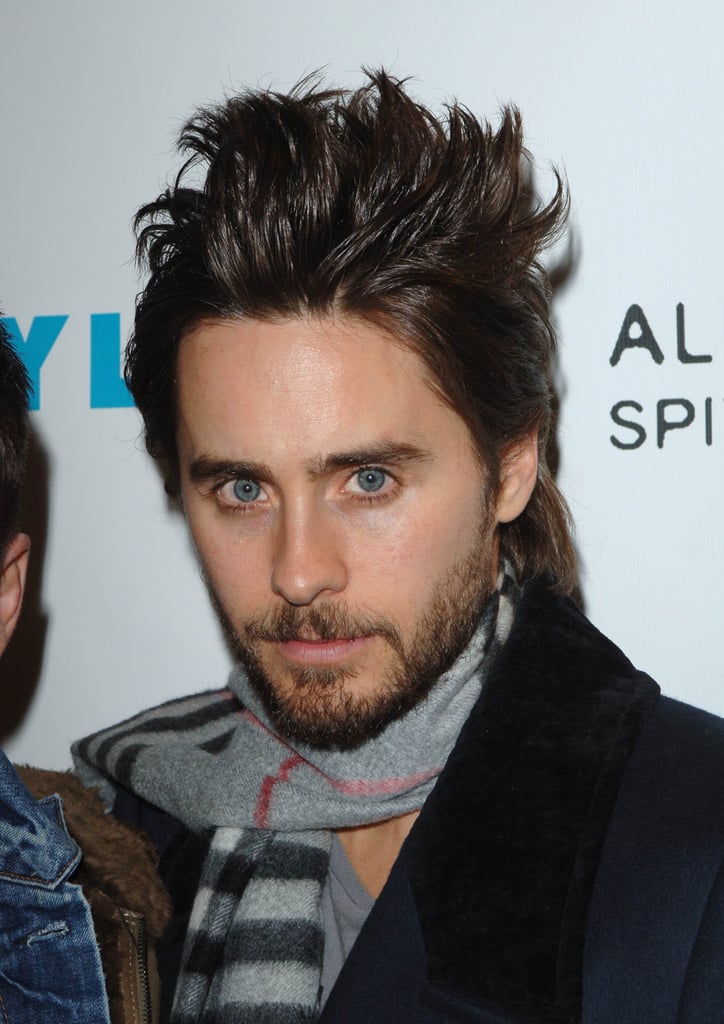 While celebrating his Nylon Guys cover, Jared put his second-day hair to work and spiked it way, way up.
2010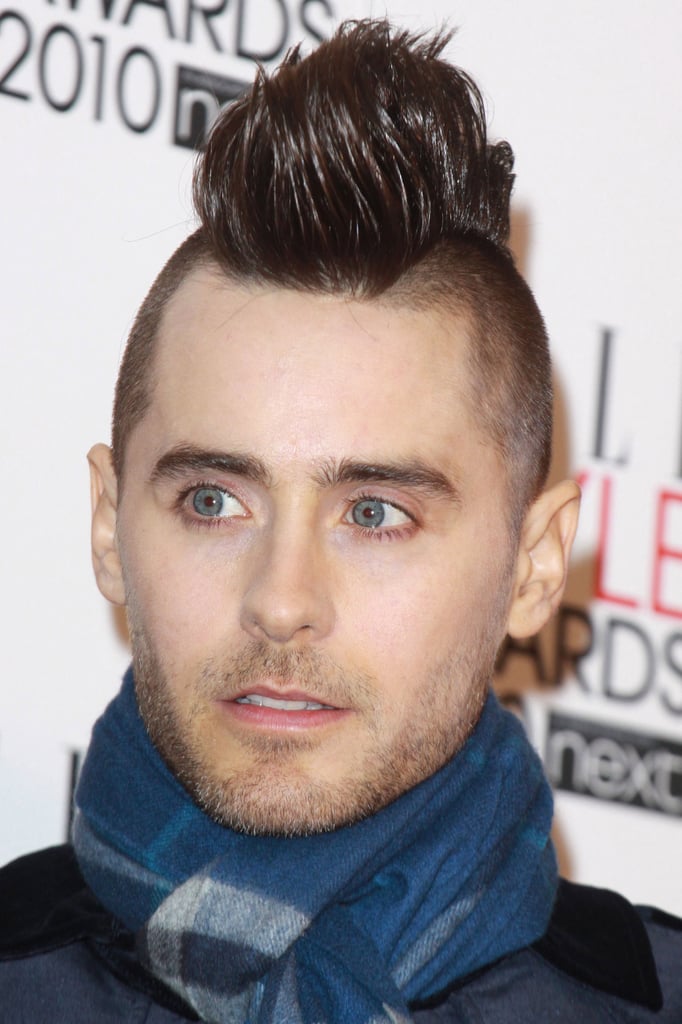 And then he kept it gelled up but shaved the sides. And alas — we're brought to the days of Jared's daring mohawk.
2010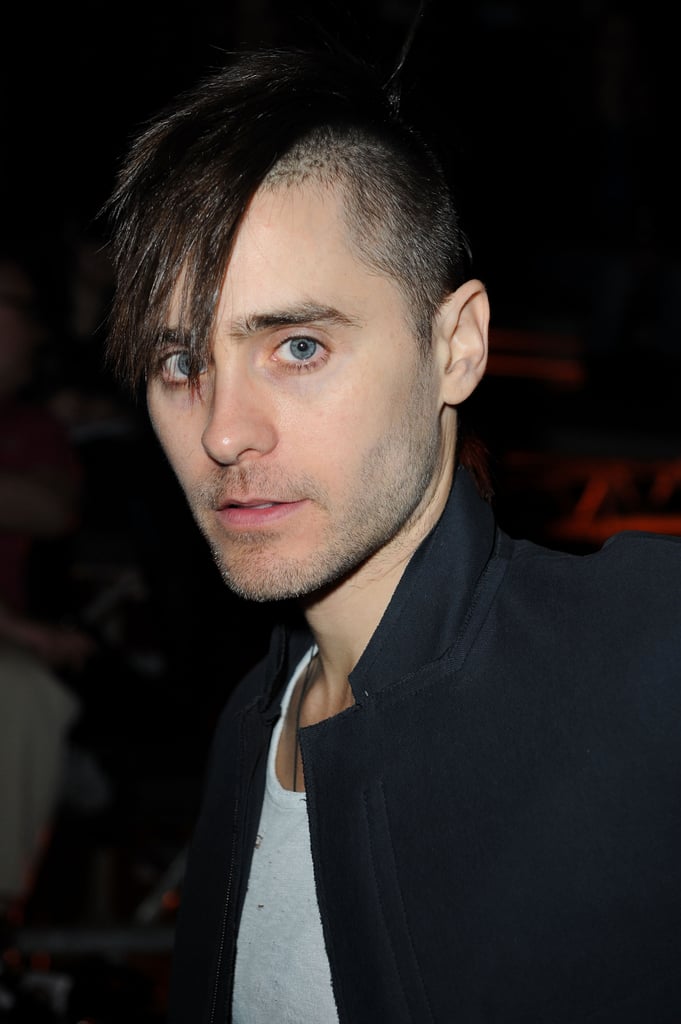 When Jared felt a little lazy, he let his mohawk hang in his baby blues.
2010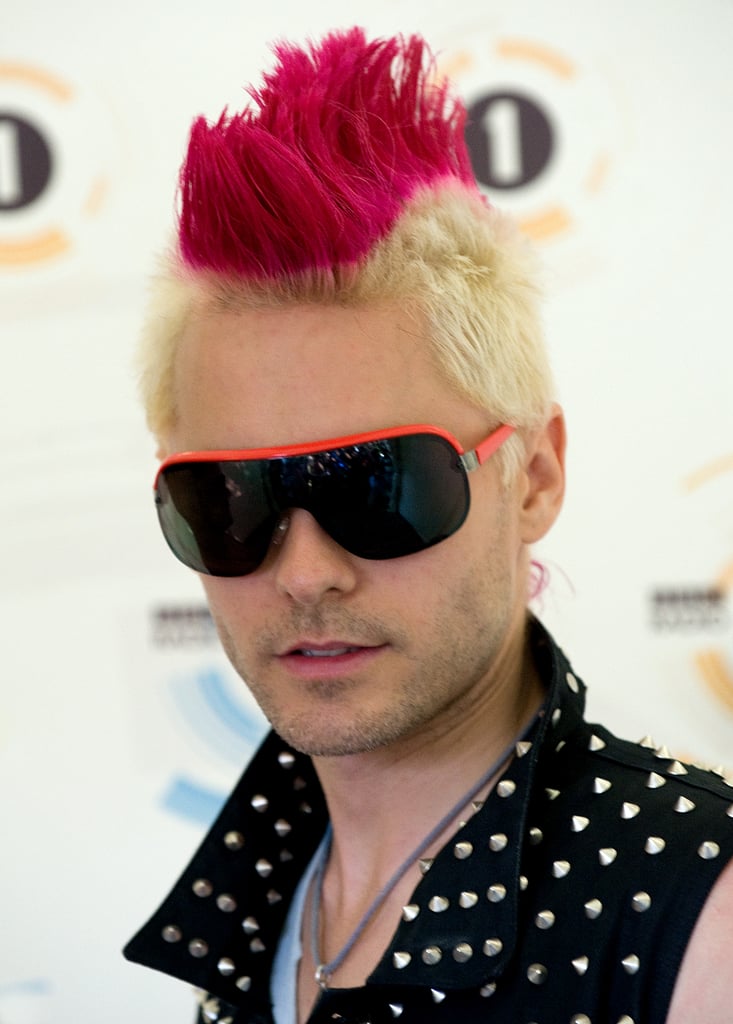 Jared embraced color once again by dying his 'hawk blond and adding some bright magenta tips.
2010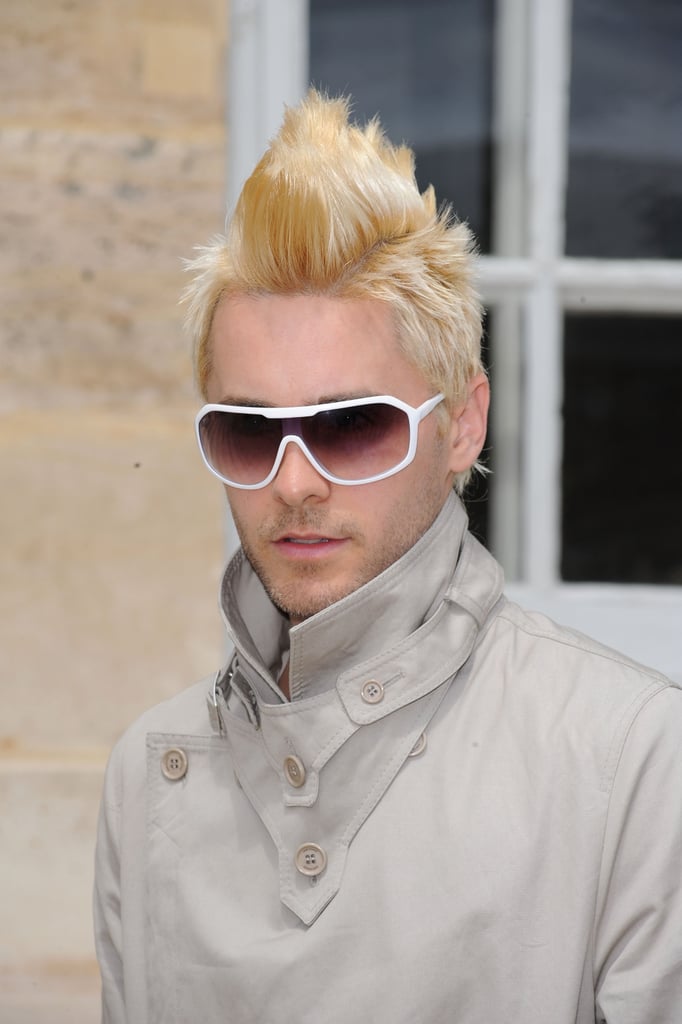 His pink hair was short-lived, though, as he dyed the mohawk completely blond in July.
2010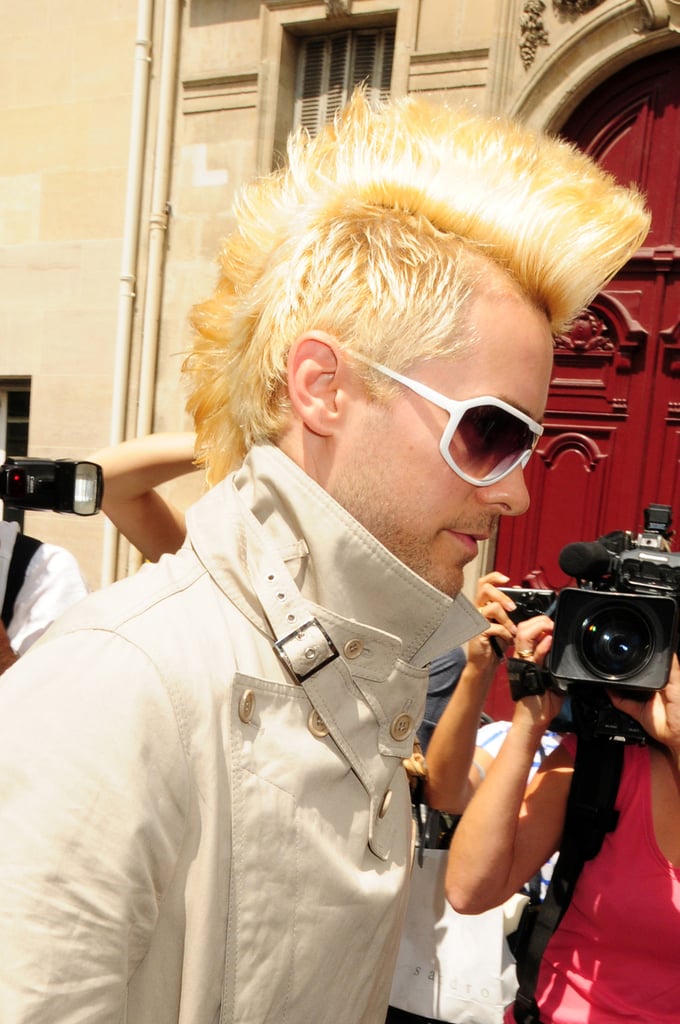 Hey Jared, can we get a side shot of that epic mohawk?
2010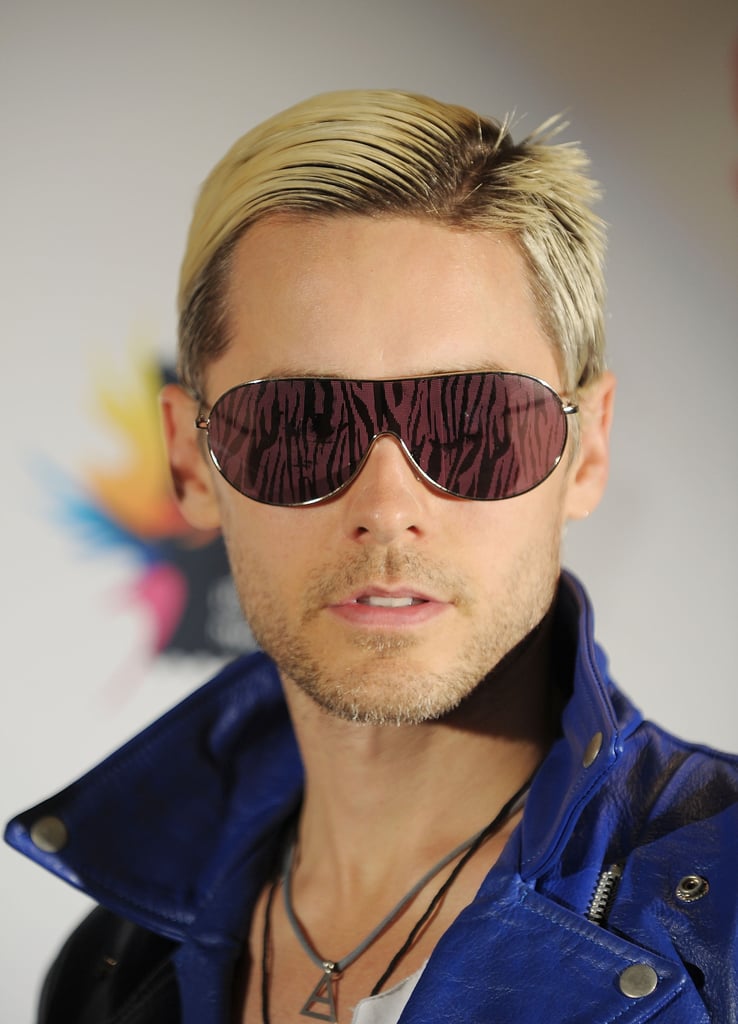 Just a month after the mohawk hit its highest height, Jared shaved it off and let his roots show a bit. Here, he does his best blond Don Draper with side part and comb-over.
2010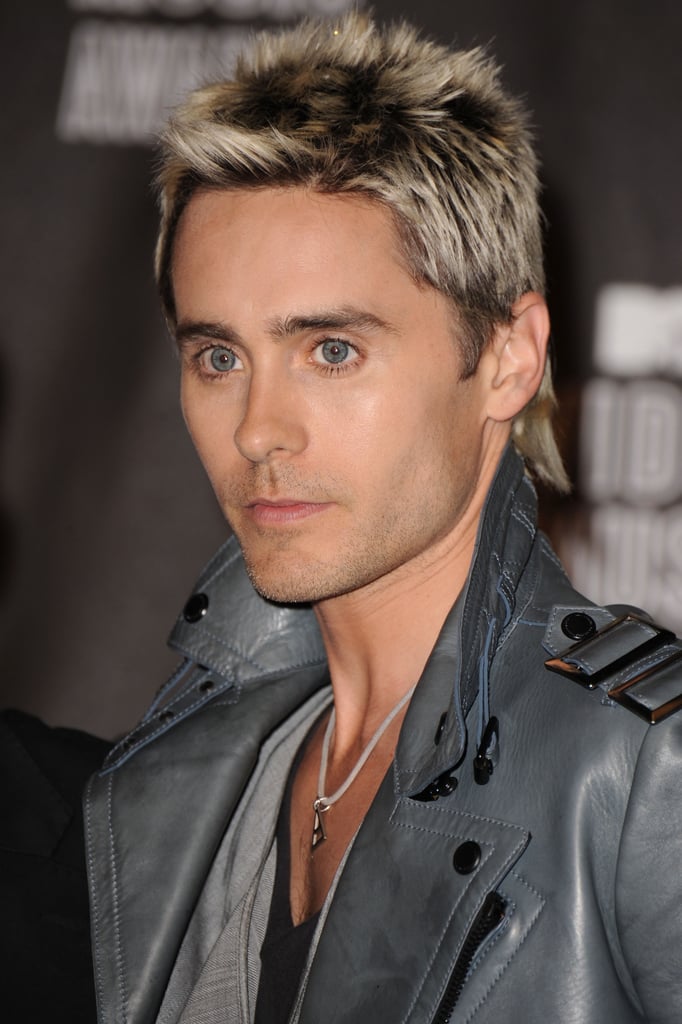 Even Jared Leto [3] isn't above frosted tips. Was someone a secret *NSYNC fan?
2011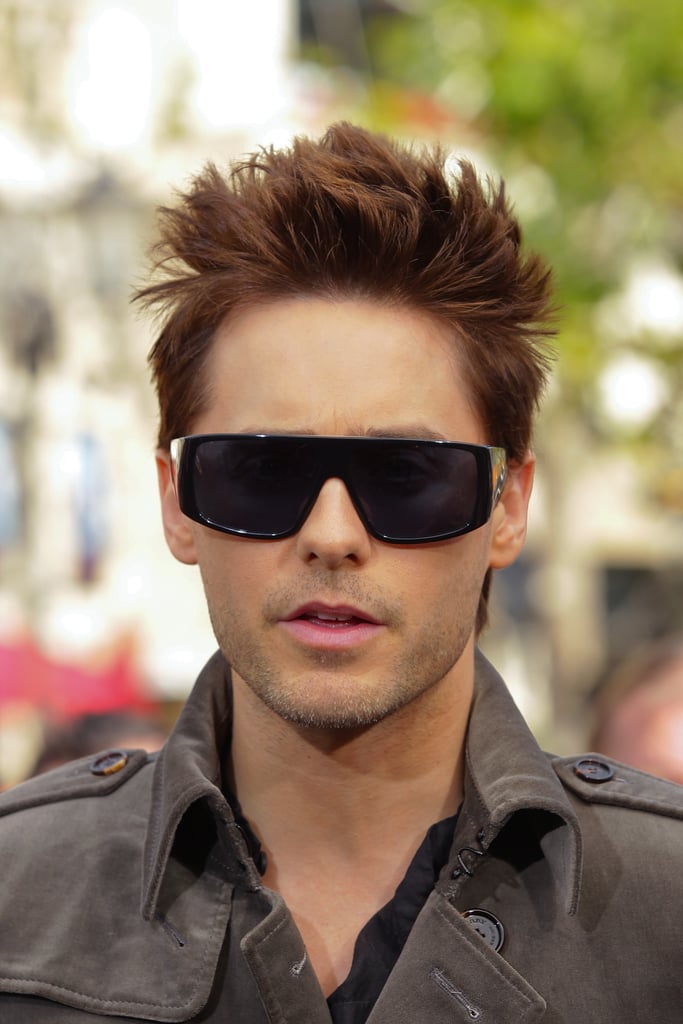 Redheaded Jared is just as visually pleasing as blonde Jared and brunette Jared.
2011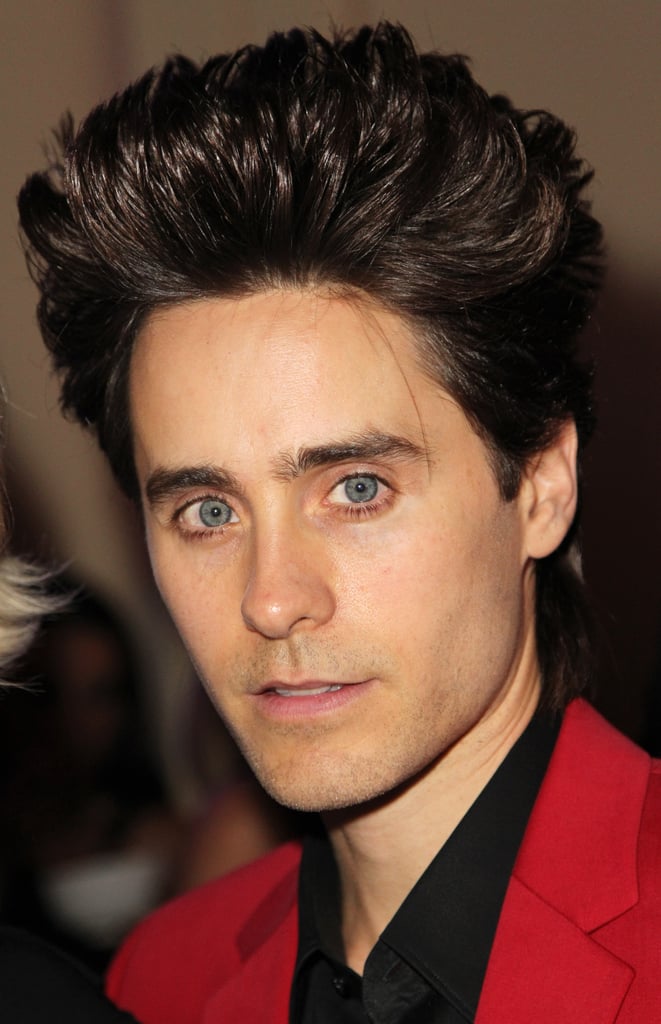 Yo, Jared. Pauly D called. He wants his blowout back.
2011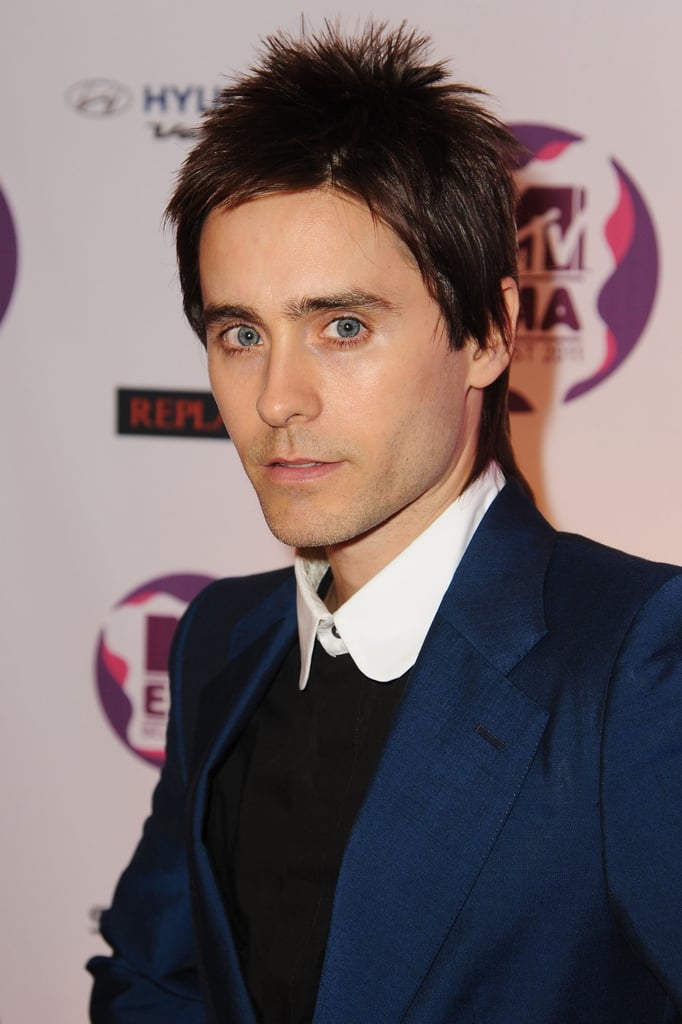 We applaud Jared's appreciation of the choppy, spiky layers complemented by a glossy Kate Middleton-brown dye job. Classy.
2012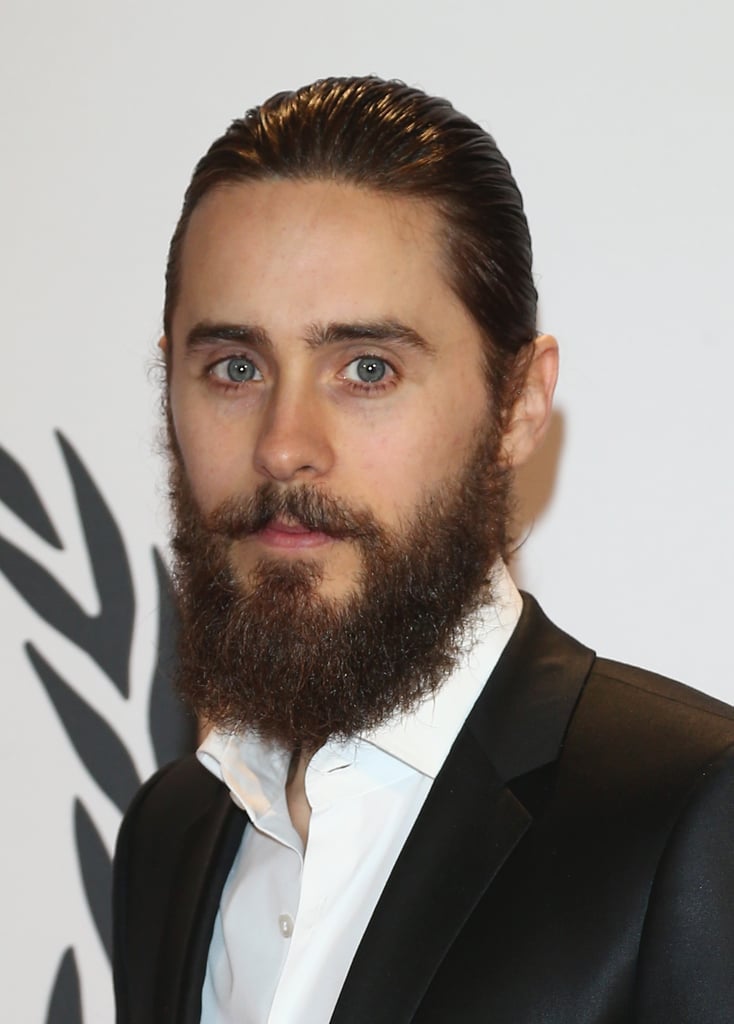 Hipster Jared returned when he grew out a seriously bushy, Williamsburg-ready beard.
2012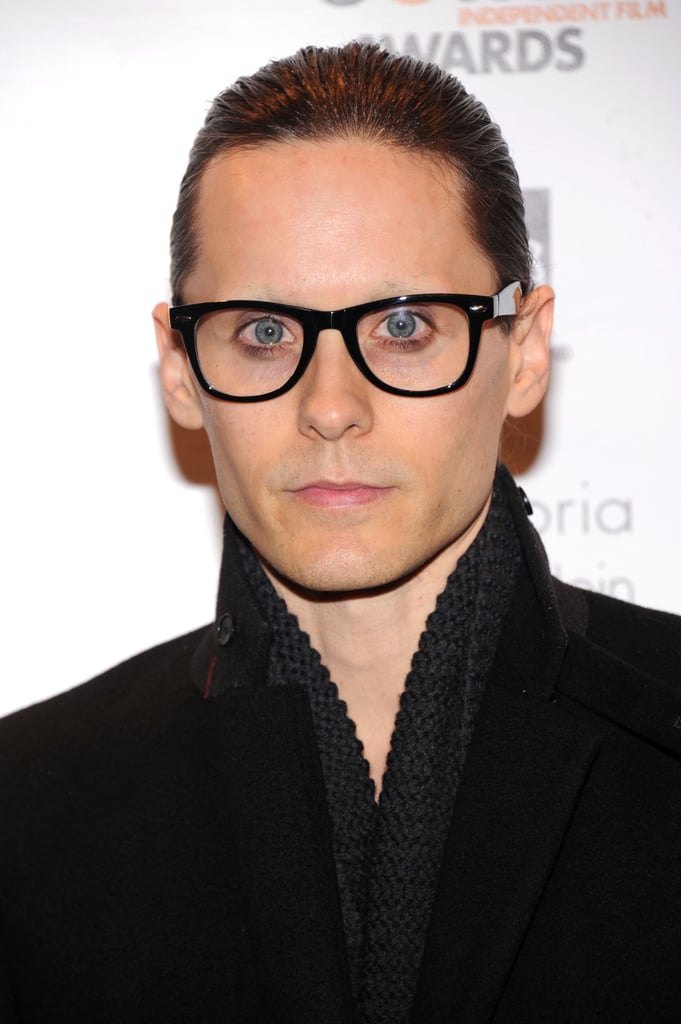 While shooting Dallas Buyers Club, Jared's svelte frame was further intensified by his beardless face and slicked-back hair.
2012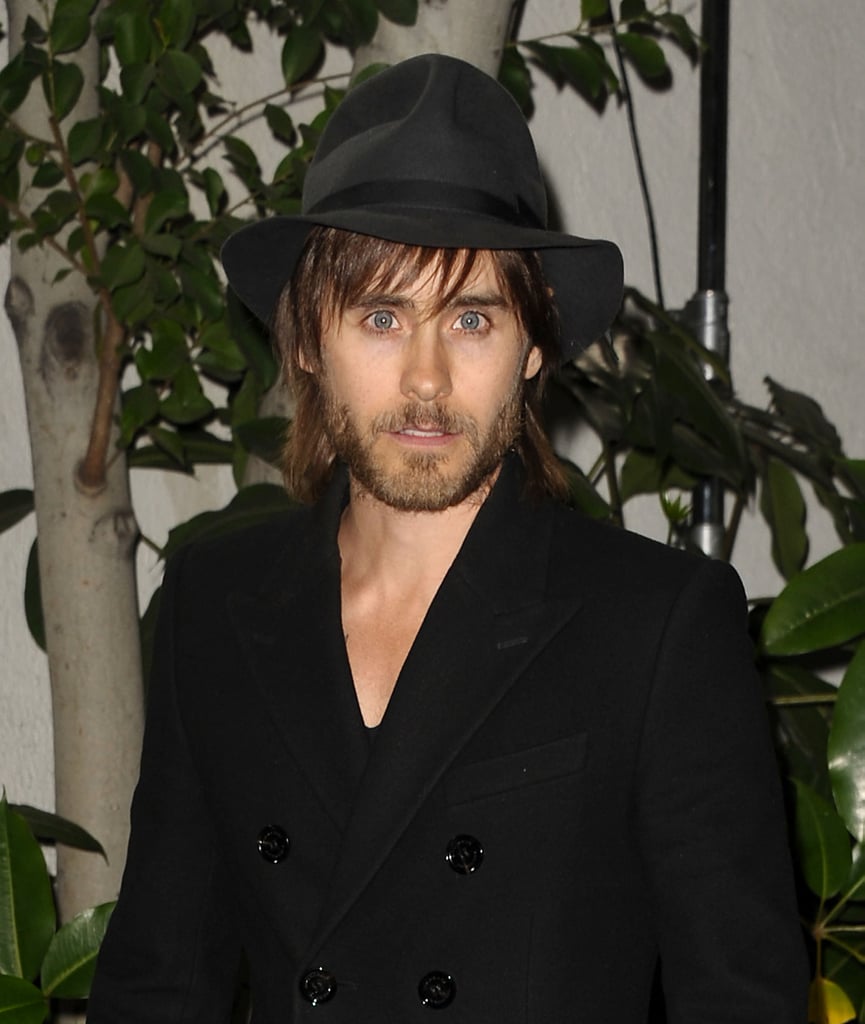 Jared managed to make the Indiana Jones look cool in 2012.
2013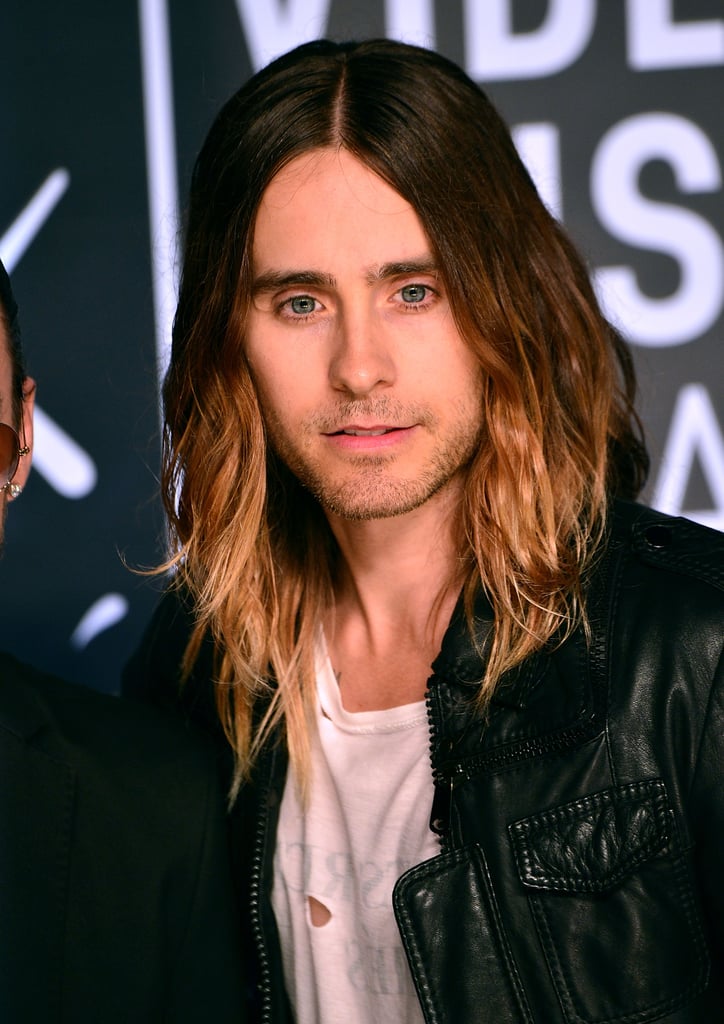 We got our first glimpse of Jared's insanely gorgeous ombré in mid-2013.
2014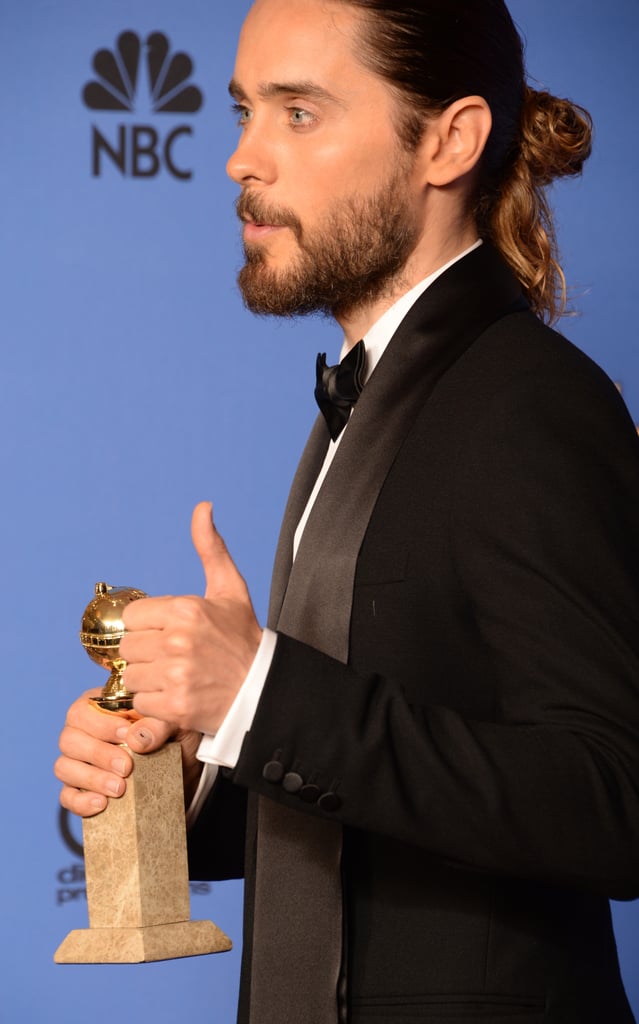 Jared kicked award season off with a bun-ponytail hybrid at the Golden Globes, and the ladies took notice of his enviable red carpet style.
2014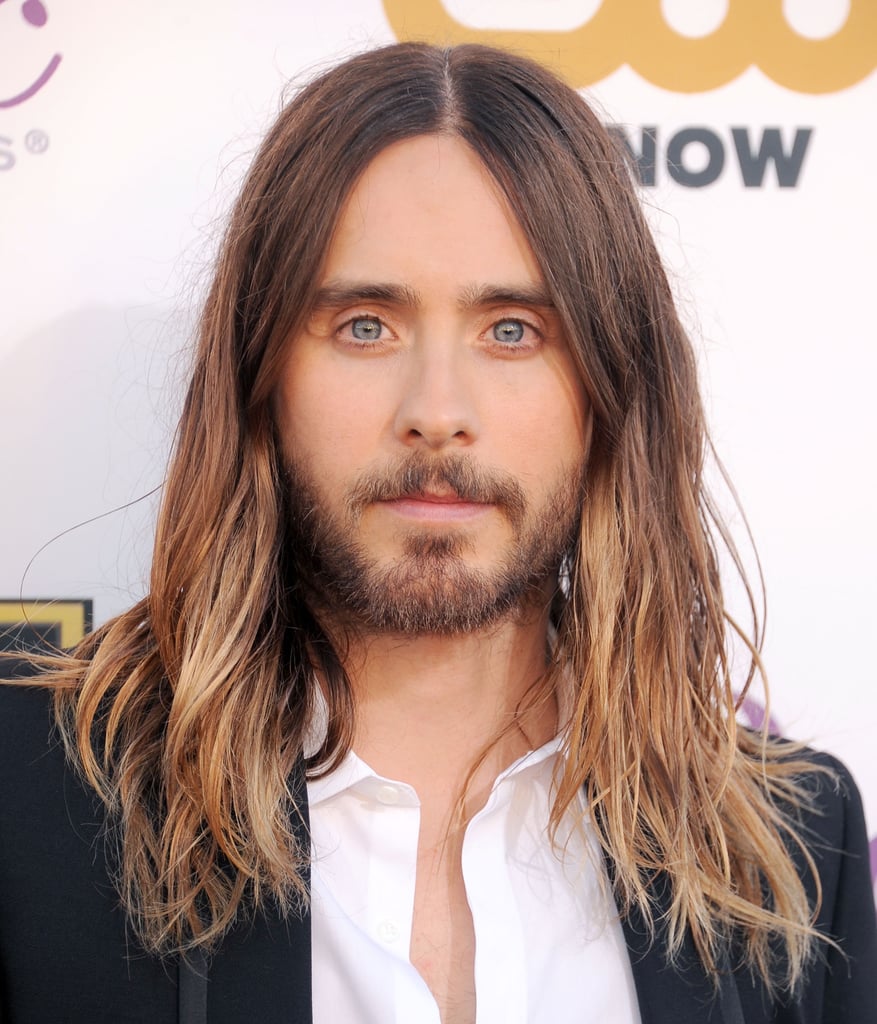 Move over, Jennifer Aniston [4]. Jared debuted beachy waves at the Critics' Choice Awards, placing him at the tip-top of our hair envy list.
2014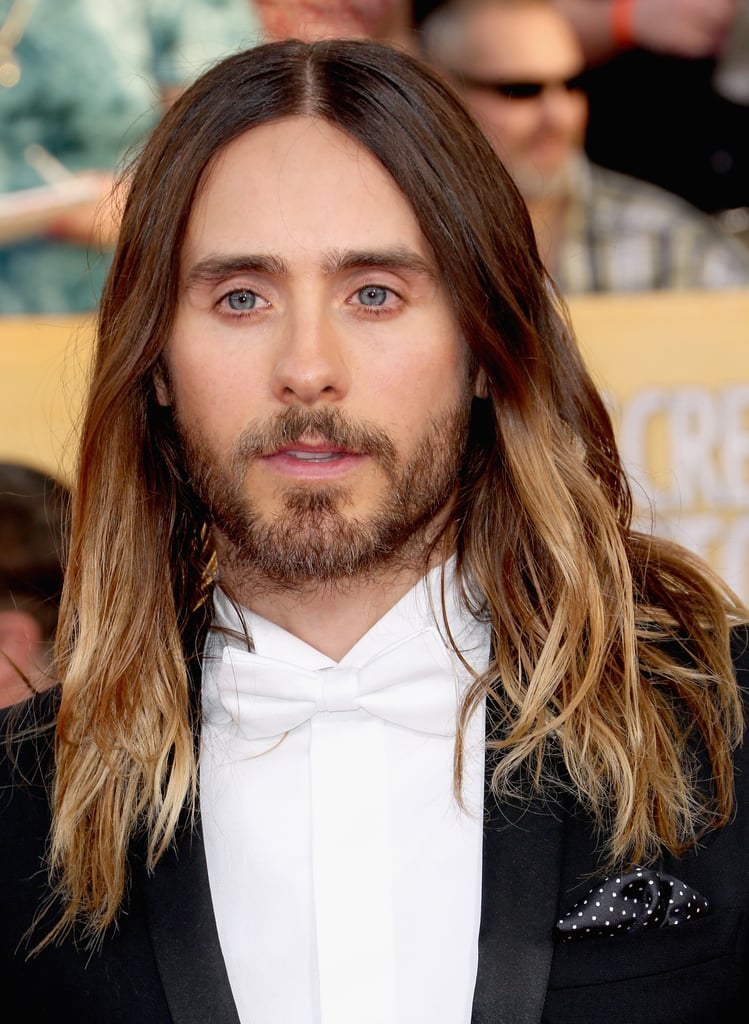 His hair was once again the object of our affection at the SAG Awards, making us contemplate an ombré dye job for the Spring.
2014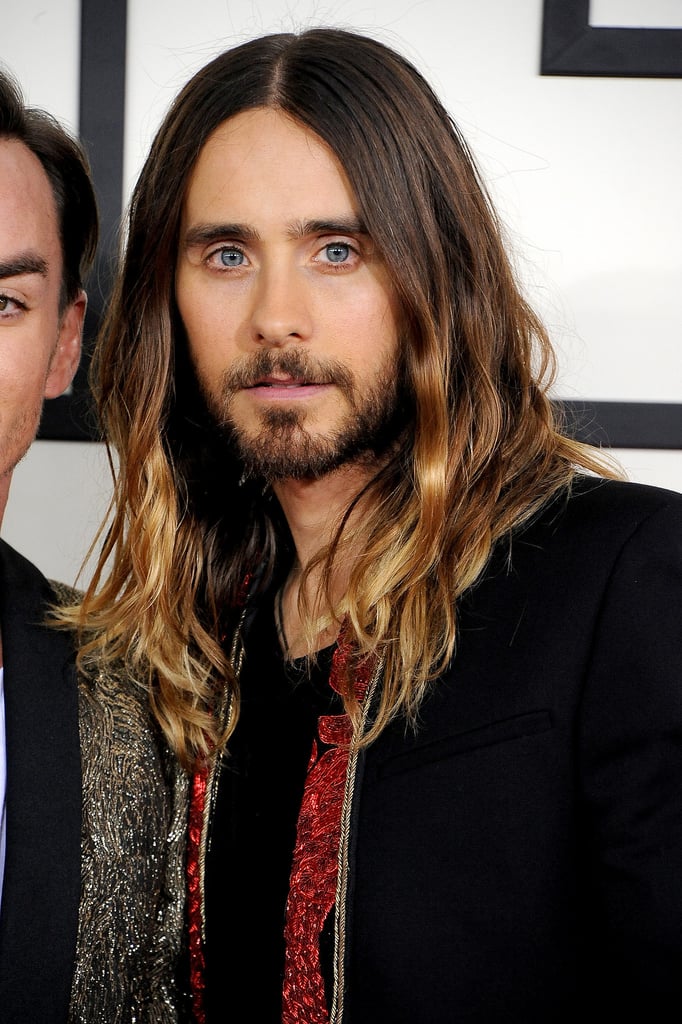 His beard and ombré combination at the Grammy Awards was more than a little alluring.
2014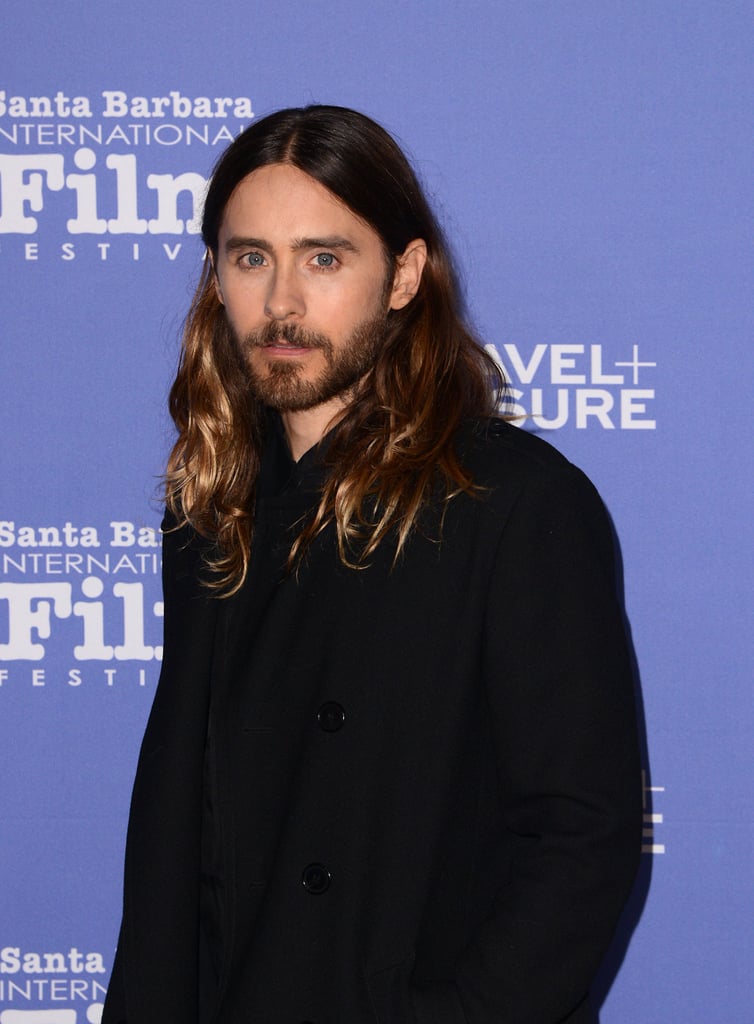 Jared tucked his strands behind his ears at the Santa Barbara Film Festival, which allowed his scruff to steal the spotlight.
2014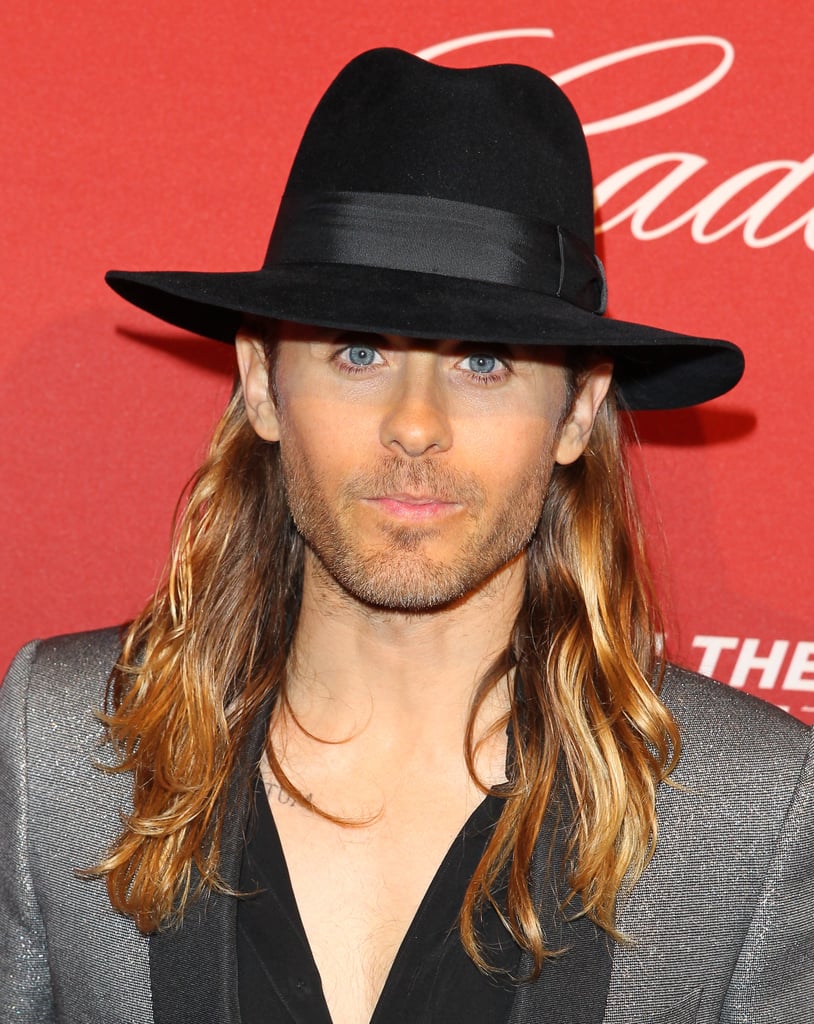 At The Hollywood Reporter's Nominee Party, hat hair didn't scare Jared from rocking a sleek fedora.
2014
We say oui to Jared's honey waves peeking out from under his hipster hoodie in Paris.
2014
Though there was much speculation that Jared would rock another ponytail bun or even wet strands [5] for the Oscars, he went with his classic beach waves. And here's how you can get his effortless hairstyle [6].
2014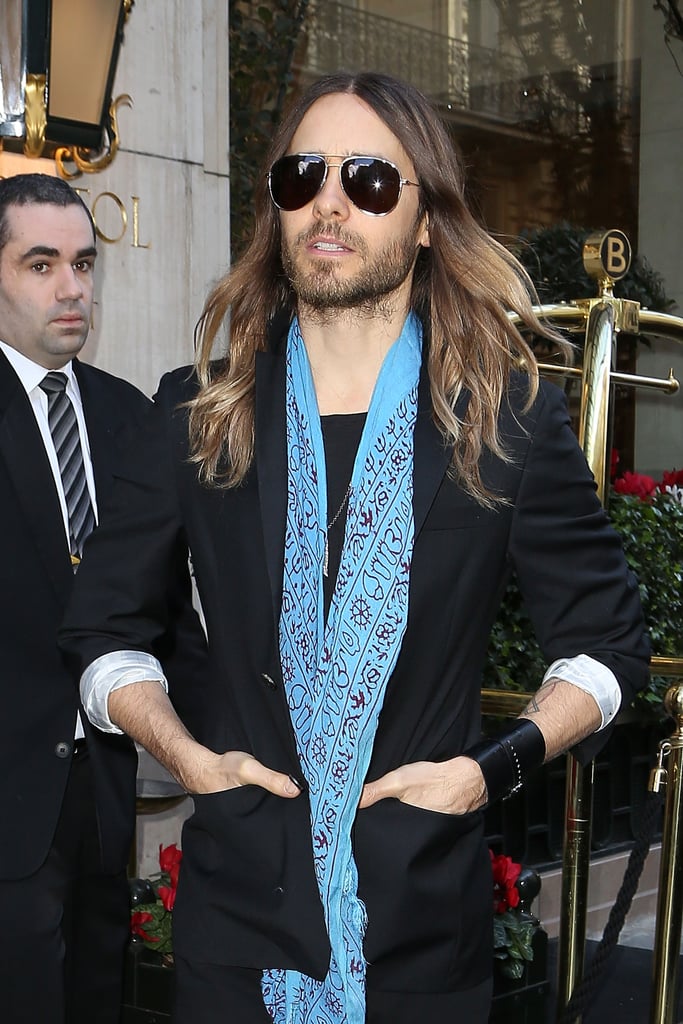 Beard? Check. Incredible waves blowing in the wind? Aways. Scarf? You know it! Jared was spotted sitting front row at Miu Miu [7] during Paris Fashion Week.
2015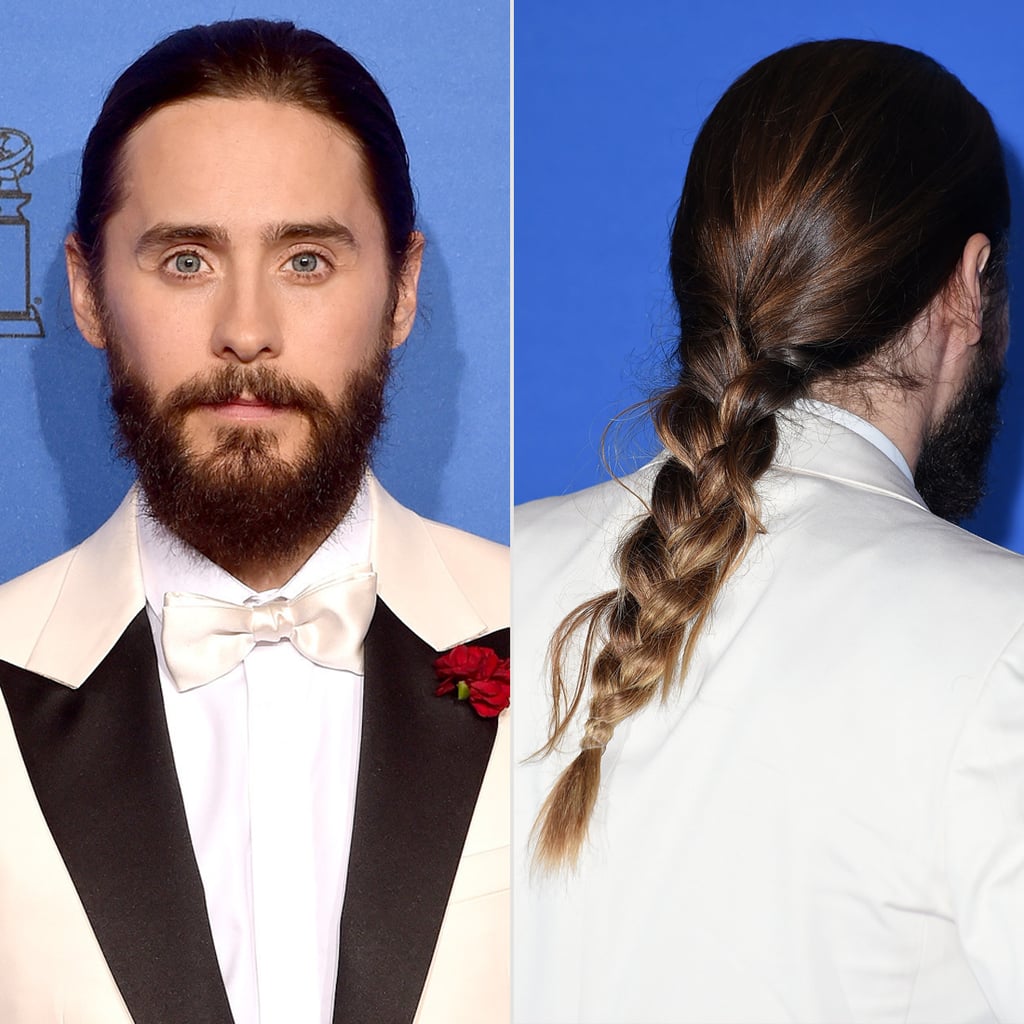 Step aside, Willy Nelson . . . if anybody can make man-braids a thing, it's Jared Leto [8]! When he sported a plait while presenting at the 2015 Golden Globe Awards, Leto just about broke the Internet [9] with his masculine locks.