Jennifer Aniston Fragrance Review
Jennifer Aniston's Perfume Is Beachy Clean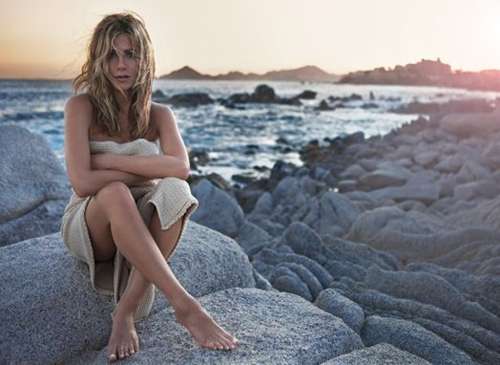 The ad campaign images for Jennifer Aniston's eponymous fragrance feature her seated on a rocky tor just beyond the ocean, looking fresh from a dip and warmed only by a beige beach towel. The photos are lovely, but I didn't expect just how literally they'd convey what her celebrity fragrance smells like. I recently wore the EDP for a full day, so to see whether this beach baby was good, just keep reading.
Jennifer Aniston ($39) starts out with a burst of salt spray and soap. If you love the scent of Tide or of laundry detergent in general, you'll likely be pleased with the opener. From there, the scent develops into a light marine floral with distinct hints of jasmine, and dries down to a slightly soapy sandalwood and amber. It's a skin scent toward the end, and only the very opening moments suggest anything akin to statement notes.
For an eau de parfum, Jennifer Aniston is rather airy, and shares a lot of characteristics with the recently popular eau fraîche fragrance category (see the Chanel Chance and Flora by Gucci eaux fraîche). It lasts a couple of hours, but I couldn't detect it on by the end of the day, so if you're looking for a one-stop spritzer, this probably isn't your scent.
Overall, it's an easy-to-wear, soft fragrance that would be excellent for day wear. If you love beachy perfumes or want to wear the smell of towels fresh out of the dryer all day, it's a good bet.