Jennifer Aniston Hair Interview
Find Out Whose Picture Jennifer Aniston Took to the Salon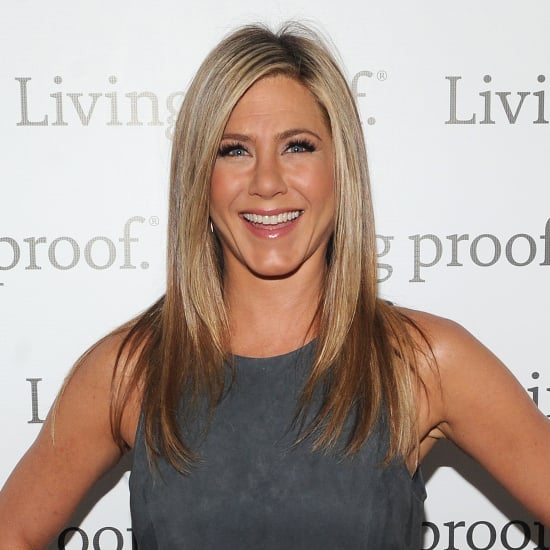 Jennifer Aniston may have some of the most envied hair in Hollywood, but the actress herself once had a hair crush of her own. "I've been that person who brought in a picture to a salon. Mine was Valerie Bertinelli from One Day at a Time," she says. "She had that full Farrah Fawcett hair. I didn't come out with that, not even close." As the spokeswoman for Living Proof, Jennifer recently talked to us about her best hair moments (not the "Rachel"), the biggest styling mistake she ever made, and the women in Hollywood who inspire her beauty-wise. Plus, her longtime stylist reveals what's next for her famous mane. Read it all and more after the jump.
While we may keep a close eye on Jennifer's coif, Jennifer keeps hers on certain models' styles. "I always love Kate Moss. I think she is just classic. Gisele [Bündchen] has beautiful hair . . . and everything else. Those two always kind of get it. They just get it," she says.
Jennifer understands that she has the hair that women want now, but it wasn't always that way. "I had great hair as a kid, and my mom said, 'You're not allowed to touch your hair until you're 13,' and the first thing I did was cut it all off," she says. "I learned that my hair really was a pain in the butt — sort of wide and unmanageable. I learned all my lessons in my younger years of what not to do." Those tough moments in the past may have turned Jennifer off from too much change, but she admits that she's toyed with the idea of going brunette. However, her next update will probably be for work.
"We were just talking about an upcoming role that she's doing, and she wants to do a drastic look for it," her stylist Chris McMillan says. "She plays a professional that's a little on the mean side, and of course I go straight to Meryl Streep in The Devil Wears Prada!" McMillan also mentioned that short hair could be a possibility for the role, but unfortunately, that little tease will have to last you until the undisclosed movie starts filming.
Jennifer shares the same excitement as McMillan when it comes to utilizing movie sets as an outlet for experimentation. "You always get hair in a movie that you could never get in real life. Like I had bangs in Marley and Me, but if I cut bangs on myself they won't look like that," she says. It was her style in Along Came Polly, though, that was one of her favorites. "It was long, and I let my blond grow out; it was just sort of dirty and whimsical."
That brand of low-key, natural beauty is what Jennifer is all about. When she's not working, she embraces her natural texture or pulls her hair up in a clip. You'll even find Jennifer out on the hunt for a bargain. "I just love walking the aisles of a drugstore. It's like the man's equivalent of the hardware store," she explains. We'll take bobby pins over hammers any day of the week.