Jennifer Aniston's Highlights: Tips From Colorist Michael Canale
The Secrets Behind Creating Jennifer Aniston's Hair Color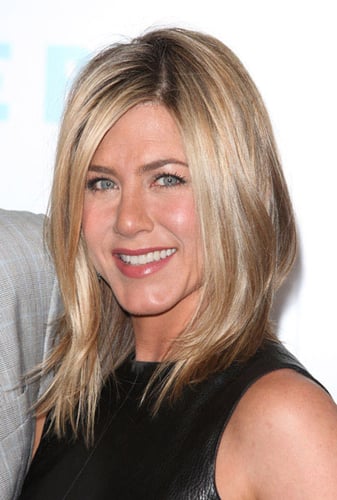 From her role in Friends to her star turn in Horrible Bosses, Jennifer Aniston has won over fans with her comedic chops — and that famous head of California-girl highlights doesn't hurt her popularity, either. The man behind her always-coveted hair color is Michael Canale, who regularly does color for more A-list stars including Heidi Klum and Penelope Cruz. When he's not working out of his Beverly Hills and Malibu salons, he holds monthly appointments in six cities — and yes, he's taking new clients. Can't make it to see Canale but want to get Jen's look? We've got the colorist's cheat sheet to re-creating her famous California-girl glow. Read on for Canale's top tips.

Get foiled.
To create natural-looking highlights, Canale uses foils instead of the hand-painted balayage technique. "I don't like balayage at all," he says. "I can do the same thing with foil, with more control. That's how I usually end up with Heidi Klum's and Jennifer Aniston's color."
Go bright, not light.
For the most natural-looking highlights, Canale aims for brightness, not lightness. "Brightness is a sun-reflecting type of color," he explains. To create bright highlights that glisten in the sun, your colorist should work with thin groupings of hair rather than big chunks.
Watch the eyes.
Highlights that play up the face are the most flattering, says Canale. "With Jen, I basically make color that grows out well, and I also make color around her face that brings out her eyes and softens her features." Brighter color near the temples looks natural while framing the face at the same time.
Work with your own color.
Though it might seem obvious, the foundation of a natural look is, well, natural. "Work with your own color," Canale advises. "Enhance the color you already have, and stick to the tones that God gave you." Take a few pictures of hair color to the salon, he suggests. A good colorist will be honest about what will — and won't — work for you. In the long run, you'll require less maintenance when roots begin to show.
Appointments: Canale Salon, (310) 273-8080. Highlights begin at $320.