Jenny Holzer Temporary Tattoo Art
Temporary Tattoos as Art?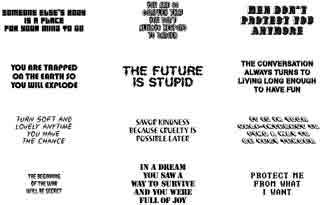 If those $78 Chanel temporary tattoos aren't up your alley but you're still looking to use your hard-earned cash on some high-end temporary ink, the Whitney Museum's gift shop is now selling this temporary tattoo art ($35). Jenny Holzer, the artist who created them, has a history of sticker art and often works with ephemera, so this project makes sense, and the tats are alternately hilarious and oddly poignant. The Whitney's billing them as collectibles and only did a print run of 200, so if you're interested I suggest moving fast. What do you think of the arty faux tats that have come out lately, though? Is it fun, or just a particularly ridiculous trend?