Is Jersey Shore Responsible For the Big Hair Trend?
Snooki and Hillary Clinton Have Something in Common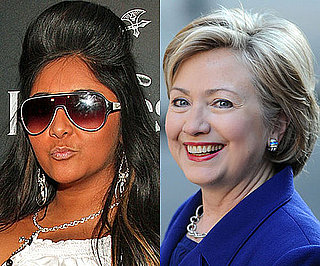 And no, it has nothing to do with Bill. It's actually a love of big, moussed-up hair, according to the New York Times. Snooki has been known for her pouf from the beginning, but lately Hillary and other people who'd consider themselves more Manhattan doyenne than Jersey Shore party girl have been trying big hair for themselves.  
Voluminous looks were all over the runways last season, and some people are attributing their presence to the Shore pop culture phenomenon. Honestly, big hair was on the runways two seasons ago — long before the show ever premiered — and big, extension-filled hair has been all over actresses for ages. (Plus, Hillary has had voluminous hair for years.) Do you think fluffed hair's current visibility is in part due to Snookeroo and co., or do you think our Garden State friends are being credited with something that's been on the rise anyway?