Jessica Simpson's New Perfume Vintage Bloom
How New Beginnings Inspired Jessica Simpson's Latest Scent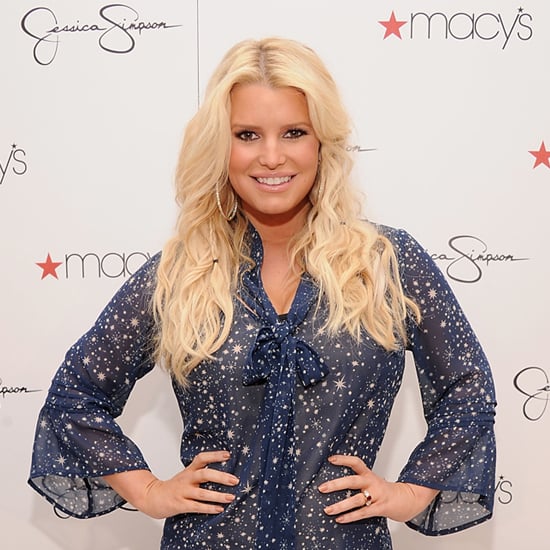 Jessica Simpson may be known for her vocal talents and bubbly personality, but the star has really made a name for herself in the fashion world. The Jessica Simpson Collection features an array of clothing items and accessories and has even extended into kids' wear, for which Jessica and her sister, Ashlee Simpson, paired up to promote at an Orange County Macy's over the weekend.
Of course, it wouldn't be a Jessica-backed company without some beauty products thrown into the mix. Jessica has launched five fragrances since 2008, with Vintage Bloom eau de parfum ($49-$65) being the most recent. The sheer floral contains notes of lemon, Caipirinha lime zest, peony, raspberry blossom, sandalwood, and musk. "Creating Vintage Bloom came about in a time in my life when everything was feeling very organic and new," Jessica says. "Everything felt like a beginning, and that's how this scent smells to me." See what else the new mom had to say about developing the perfume, as well as a surprising fact about her past, when you read more.
BellaSugar: Why do you think your fragrances have been such a success?
Jessica Simpson: With my fragrances, as with the entire Jessica Simpson Collection, I put my heart into it. I've worked hard to create a lifestyle that is relatable, affordable, and easy to wear.
BS: What were your must haves for this perfume?
JS: I wanted to create a fragrance that was extremely clean and natural. Vintage Boom is a sheer scent with the freshness of citrus. It reminds me a little of Summer and smells really feminine.
BS: When you're not working, what's your daily beauty routine like? What products are always in your bag?
JS: I try to keep it simple and always take care of my skin. I love the BeautyMint Ultra Replenishing Serum. Also, I never leave home without an eyelash curler.
BS: What do you think people would find to be most surprising to learn about you?
JS: Growing up in Texas, I was the go-to hair and makeup stylist for all of my friends. Before prom or a dance, everyone would come to my house and I'd style everyone — my mother has all of the pictures. We always had a blast!