Jill Conner Browne Interview
The Sweet Potato Queen Shares Thoughts on "Purse Mouth"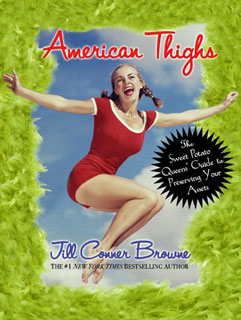 Jill Conner Browne, boss of the legendary Sweet Potato Queens and author of American Thighs: The Sweet Potato Queens' Guide to Preserving Your Assets, took a few minutes out from her reign to talk with me. She's giving no-nonsense advice on everything from Botox to makeup, Purse Mouth, and booty injections. To get a little of her Queenly wisdom, just keep reading.
Can I ask you a couple of questions about beauty as a Southern woman?
Yes, you can. I have no secrets, no shame, and no pride.
What's your biggest piece of beauty advice to your own daughter?
Mostly that she doesn't need any makeup. She has youth, which you cannot buy, and makeup is one instance where less really is more. If you're under 40, it's just an insult to the rest of us that you even wear makeup. You're perfect just the way you are, and the crying shame is that you have no idea how perfect you are. But nobody does when they're that age, and you can't convince anybody. But I promise you that when you get to the other side of 40, you'll be looking back and going "Oh my god! I was perfect!"
Well, there's Botox for that, right?
Ugh, do not do Botox.
Why? Do you know anybody who's had a bad experience?
Well, if you use it, you're eventually gonna have a bad experience. If you're going to have anything done, you need to go to a board-certified facial plastic surgeon. It doesn't count if they're board-certified in plastic surgery if they haven't done a specialty in faces.
I actually just put up a story the other day about women getting bad booty injections. What do you think about stuff like that?
I can't imagine somebody wanting their butt to be bigger; that is beyond me, because mine has been the bane of my existence. I'm for anything that actually does work, that doesn't make something else worse, and that's permanent. If you've got to re-do it all the time, it's not worth it.
What can't you fix down the line?
Nobody can do lips well yet, and I don't know that they ever will. One beauty tip for all of y'all: don't smoke (besides for all the obvious health reasons), and don't use straws for the same reason: Purse Mouth. They can cure cancer; they cannot cure Purse Mouth. They can't fix the vertical lines that you get when you draw on a cigarette or suck on a straw.
And what about cellulite?
Just hide it as best you can — there's no getting rid of it. If your body deposits fat that way, you're cursed, as am I. It has to do with your connective tissue and all that, but I just like to think of it as a curse.
What about all the home remedies for beauty that are floating around?
Well, I've certainly heard of putting Preparation H under your eyes. But really, the best thing you can do is go to bed. It's a beauty treatment that costs nothing and will serve you well in every area of life. There's no reason to stay up until five o'clock in the morning — ain't nothing good happening.
The Sweet Potato Queens are incredibly charitable and raise money for Blair Batson Children's Hospital. How did you start doing that?
It's a very easy cause to get behind. If you visit one children's hospital, that's just about all you need to know. Everything we do, including the parade, has a fundraising arm tied to it, which goes to Blair Batson. Our motto is "ANYTHANG for THE CHIRREN."