Joey Maalouf on Fall Trends, Kate Middleton, and Rachel Zoe's Beauty Look
Rachel Zoe's Beauty Guru Talks Making Over Kate Middleton, Fall Trends, and More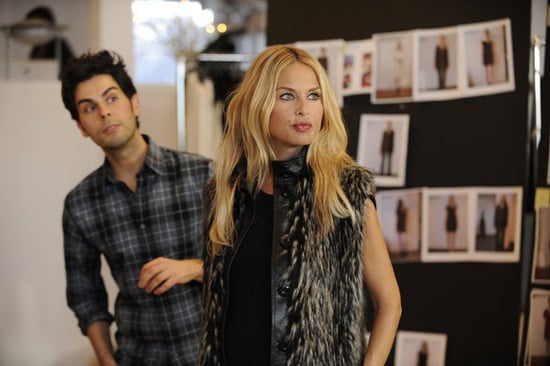 As Rachel Zoe's beauty guru on The Rachel Zoe Project (Tuesdays at 9 p.m.), Joey Maalouf is the man responsible for maintaining the stylist's signature beachy waves and ubiquitous red lipstick look. And while Maalouf has been a hair and makeup artist since he was 15 years old, he's also been dabbling as a clothing stylist on the show. Rachel always surrounds herself with the liveliest of people, and as you might imagine, Maalouf is no exception. To see what he has to say about making over Kate Middleton, how Rachel wooed hubby Rodger Berman over with burgundy lips, and more, just keep reading.
On what we can expect to see beauty wise on the next few episodes of the show: "Rachel's always all about her lips. She always talks about how the day Rodger met her. All he was obsessed with was her lips, and she used to wear the brightest, most burgundy red lips. So Rachel is really all about a red lip this season. Coming this Fall/Winter, she is going to transition more into a smoky eye, but I think throughout the season, when Rachel is pregnant, she just kept saying lipstick made her feel brighter and better, so it was really a major go-to for her. If you opened any of her purses, she has like 83 lipsticks!"
On how he would make over Kate Middleton: "She's pretty simple with the hair and makeup; I think I would make her look a little cooler. I mean, obviously I'm the only person that would say something bad about her, but I think her makeup makes her look a little old. I think she would look fresh and young and dewy and as if she just woke up looking like that."
On working with Rachel: "I still, to this day, doing her hair and makeup, treat her like I had never worked with her before. When I am working, I just think professionally, even though I talk to her like she's my friend. I still make sure that I'm 10 minutes early and on top of anything and everything, because I always know what to expect — even though she constantly surprises me. She never knows what she's going to wear. It's always about getting her out of there as quick as possible. I really have to have my brain on when I work with her."
On his favorite Fall hair trend: "I'm really into a braid lately; I'm obsessed with a fishtail braid [and] I'm obsessed with really long, undone hair. I always say that if you split your hair down the middle when it's wet and braided it into pigtails, when you wake up in the morning, you have the perfect undone hair. I think that your hair being undone, whether you want to put it into an undone bun or an undone braid or an undone ponytail, or just kind of let it naturally flow, with not too fussy of a texture, always just looks effortless and gorgeous."
On makeup looks he and Rachel like: "Rachel and I always go back to throwing on a lip. If you're wearing a black dress and you don't really have that much time to figure out your accessories or how you're going to do your hair, you can just keep your blow-dry, throw it back in a messy bun, and all you need is a rubber band. [Then,] throw on an amazing, bright lip color with a chunky mascara, and you're out the door. Other than that, I would always say to carry a black eyeliner on you, so you can transition your look from day to night just by throwing on some eyeliner and giving yourself a smoky eye."
On hair in general: "I always like people to keep their hair consistent, so that when you do want to change, it's a really noticeable change. Find what really works for your natural hair texture and make it really work for you. I believe everyone is born with the hair they're supposed to wear, and there are really amazing ways to figure out how to wear your hair in its natural texture."