Johnny Weir Olympics Interview
Olympic Beauty: Talking Makeup With Figure Skater Johnny Weir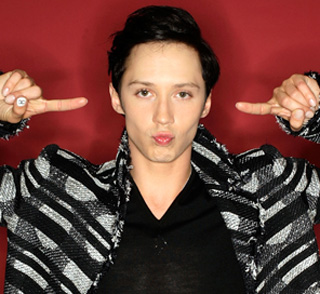 The 2010 Vancouver Winter Olympics have just begun, and with them comes fierce competition in figure skating. Figure skaters aren't just amazing athletes, though — they're also consummate performers with more beauty savvy than you can shake a kabuki brush at. So you can imagine my excitement when Johnny Weir, one of the US team's brightest stars, let me ask him my most burning Olympic makeup questions. He had some great advice, so to find out how to get a performance-worthy look, just keep reading.
What makeup item should every self-respecting man own?
Blot powder or concealer. I don't consider looking like a shiny mess manly. Men need to understand the importance of their skin and beauty regime; there's nothing not-masculine about taking care of yourself. The face you present to the world is the most important one.
How do you keep your on-the-ice look natural but still ensure it has a lot of impact?
I highlight what I think is good about my face. I make sure to brush my eyelashes so my eyes are wide and alive. I make sure not to wear any muddy foundations that will cover up my natural skin tone, and I highlight my bone structure with bronzing powder. Highlighting the goodness in what your mama gave you is what beauty is all about.