JolieMD Metamorphosis Review
A Blogger Develops a Skin Care Line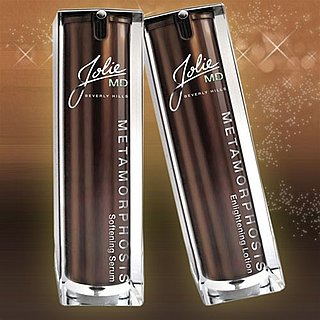 What do you get when you mix a beauty blogger and two Beverly Hills plastic surgeons? Sounds like the setup to a joke, but Nadine Jolie, Dr. Jason Litner, and Dr. Peyman Solieman are serious about their skin care. The trio teamed up to develop Jolie MD Metamorphosis ($96), a two-step regimen meant to minimize wrinkles, reduce acne, and address uneven pigmentation. The line has a fun backstory, but how well does it work? For my take, keep reading.
Full disclosure: I know Nadine and she's great. But I promise to give you my honest thoughts on the product no matter what. So with no further ado, here we go.
Metamorphosis consists of the Softening Serum and Enlightening Lotion. After cleansing, you apply one pump of the serum, wait a few minutes, and finish with the lotion. Both have a pleasant, fresh, slightly fizzy scent — almost exactly like that of ginger ale. Surprisingly, one pump of each is all that's needed to cover the entire face. If you have dry skin, you might want to follow with a light moisturizer, but the formula isn't drying at all.
Let's talk ingredients. The formula contains a lot of effective ones such as glycolic acid, peptides, and retinyl palmitate. The ingredient list explains what each one does, but the overall effect is meant to reduce inflammation, increase collagen production, exfoliate, and reduce melanin production. The formula is gentle, but the ingredients are serious — which is why you must wear sunblock every day while using it. It's also wise to stay away from other topical treatments like benzoyl peroxide, since overloading your skin can create irritation.
While I like the ingredient list, I also like what isn't there. Metamorphosis is free of parabens, phthalates, synthetic fragrances, dyes, petrochemicals, sulfates, and the bleaching agent hydroquinone. What does this mean in plain English? Basically, you don't need to worry about possible health risks that may come from ingredients like phthalates. What's more, the product aims to address hyperpigmentation issues without bleaching the skin, which makes Metamorphosis ideal for women of all skin tones.
OK, but how well does it work? I've been using Metamorphosis at night for the past month, and in the mornings I use Azelex, a prescription-only acne cream. (Metamorphosis also contains azelaic acid, which is the active ingredient in the Rx.) I've seen improvement in the overall tone and evenness of my complexion; for instance, a recent stubborn acne scar has finally started to fade. I have fewer clogged pores, and much of the redness in my cheeks has disappeared. Some of these changes are partly due to the Azelex, but I'd been using that for five weeks before introducing Metamorphosis to my skin, and the results have been better by using both products. I see gradual, but consistent, improvement along the lines of the before-and-after shots on JolieMD's website.
Now for the drawbacks. The packaging is solidly luxurious, but I wish it were easier to recycle. Then there's the cost: at $96, JolieMD is a splurge for most people. (On the other hand, the ingredients in the formula are effective, so you'll probably see results.) For another opinion, check out Afrobella's review.