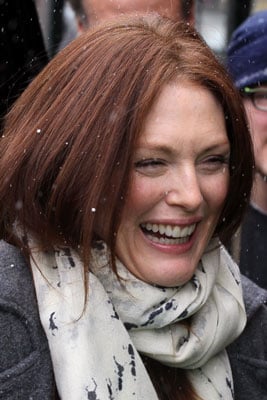 Chances are, you're feeling the chill of January-style weather, but that doesn't mean that you have to experience Winter-hair doldrums. Take Julianne Moore, for instance, whose enviable red locks were styled to perfection, despite the cold climate and snow flurries in Park City, UT, where the 2010 Sundance Film Festival is currently taking place. "Julianne wanted a simple but sophisticated look for her press in Sundance," said Stephen Lewis, who worked with the longtime actress to achieve this perfect-for-Winter, non-fussy hairstyle. To get Lewis's how-to, just keep reading.[/break}


Lewis applied Leonor Greyl Serum de Soie Sublimateur ($39) to Julianne's hair while it was still wet. "It made her hair shiny and polished without looking greasy, and it held really well in the wet, snowy weather," he said.
Then, while blow-drying Julianne's hair, he used a round brush to create volume and smoothness.
"For a finishing touch, I applied a small amount of Leonor Greyl Eclat Naturel Styling Cream ($34) on her ends," he said, adding, "She looked great!" I couldn't agree more.