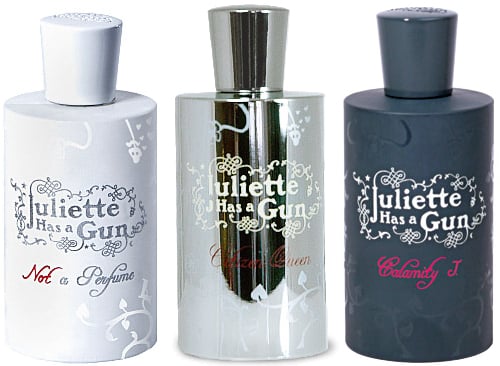 Juliette Has a Gun has established itself as a premiere niche fragrance line because of its sensual and complex scents. But note descriptions don't do a fragrance justice, so we decided to try the whole line. If you've been curious about which one of its scents you might like, we've got the scoop, so just keep reading.
Miss Charming
What it's like: This is the only scent in the bunch that could be described as "girlish," with lots of light flowery notes and even a little fruitiness.
Who'll like it: Girls who like to think of themselves as Holly Golightly or love Chanel Chance or Miss Dior Cherie, but want something less popular.
Lady Vengeance
What it's like: This scent is like Miss Charming's big sister — still pretty and floral, but also deeper, with a vintage feel and a strong rose smell.
Who'll like it: Anyone who adores rose perfumes, and people who prefer fragrances with a vintage feel, like Shalimar.
Not a Perfume
What it's like: This fragrance is "not a perfume" because it has a single hypoallergenic note, Ambroxan, which smells like warm amber.
Who'll like it: People who have allergies to most perfumes, and those who like simple, single-note scents.
Calamity J.
What it's like: A men's fragrance designed specifically for women. Calamity J. smells like cinnamon and nutmeg — a liquid gingersnap without the sugar on top.
Who'll like it: Those who love men's cologne, and people who hate flowery scents but want something sexy and inviting.
Citizen Queen
What it's like: If this perfume was a person, it would be a dominatrix. Sexy in a leather-and-aldehydes kind of way, it's not traditionally feminine, but still attractive.
Who'll like it: People who wear Chanel Cuir Russe or love the smell of English Leather and/or actual leather.
Midnight Oud
What it's like: Oud (aka agarwood) is an incense that smells like the peppery drydown of an old-fashioned men's aftershave.
Who'll like it: People who love the scent of church incense or want a scent that's uncommon yet immediately recognizable.