Kate Hudson and Goldie Hawn Beauty Tips
Kate Hudson and Goldie Hawn on Beauty, Motherhood, and Making Up a Maltese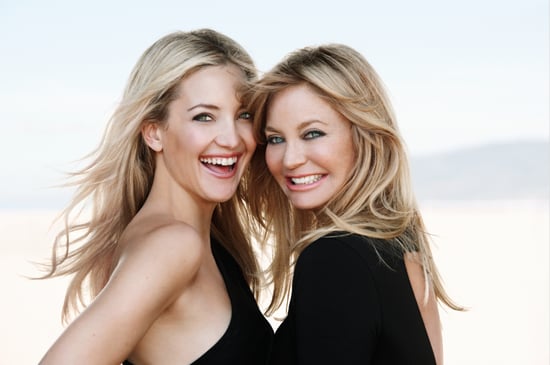 Often, women look to their mothers to see how they will age, and if Goldie Hawn is any indication, Kate Hudson has nothing to worry about. Both stars work hard for their glowing complexions, but they each have differing approaches when it comes to skin care. Kate, a global brand ambassador for Almay, keeps it simple, while her mother loves to experiment. Discover Goldie's nighttime beauty routine, stories of Kate's early years as an aspiring makeup artist, and their plans for Mother's Day when you keep reading.
Before Kate caught our eye as Penny Lane in Almost Famous, she was pursuing a different career . . . in makeup. "When I was 4 or 5, I put makeup on our Maltese, Paula — some pink blush, a little pop of blue on her head," Kate explained to us in a call that also included her mother. "I thought, 'She's a girl. She wanted some color in her life!'" Little Kate also studied in a professional setting while sitting on her mother's lap as makeup artist Tom Case prepared Goldie for her latest role. "She put more lipstick on than I have ever seen in my life, so of course she ends up representing Almay," Goldie quipped.
As for the beauty traditions passed along the Hawn-Hudson family line, Kate isn't applying lemon as an astringent like her grandmother once did. But she has learned a few things about holistic beauty from her mom. "There are great creams out there. Creams with this and creams with that, but I ingest oil," Goldie says. "The skin is our biggest organ, and as you get older, you get drier. So I ingest two tablespoons of olive oil before bed and massage my face." But for Kate, it's all about the multipurpose products like Egyptian Magic ($37). It's a favorite because it doubles as under-eye cream and diaper rash cream (what more could a mother want?).
Even though it's obvious Goldie and Kate are close, as evidenced by their easy rapport, Kate admits her mom isn't the type to give unwanted advice. "Your children see as you do. You can give advice until the cows come home, but they don't always hear you," Goldie says. "They do remember what you do. Have good habits and have your children watch you take care of yourself." In that spirit, the ladies are planning a hike, spa day, and tennis date in the desert this Mother's Day. Now you know how they have both stayed so gorgeous over the years.