Kate Middleton's Beauty Routine: What Might It Cost?
Want to Look Like Kate Middleton? Here's What It Might Cost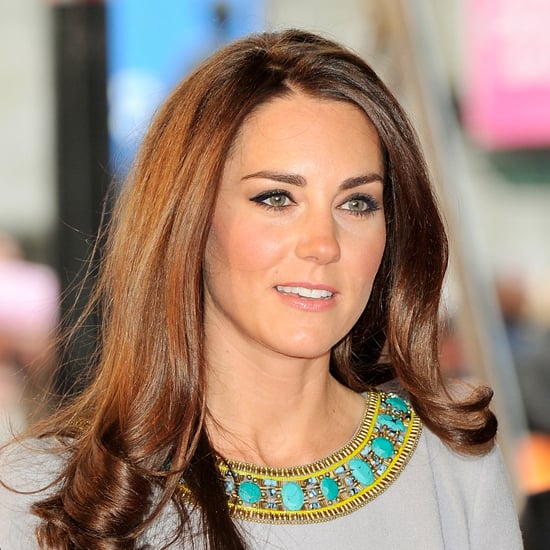 One year after her royal nuptials, Kate Middleton, Duchess of Cambridge, always looks lovely and put together. So it's no surprise that many women are clamoring to mimic her style. Obviously, her good looks were handed down from her parents, but constantly being so well groomed requires a serious beauty regimen. While nobody but Kate knows her exact routine, we've uncovered a few products and treatments that are said to be her favorites — and added up the costs. As you can imagine, looking princess-perfect costs a pretty penny. Read on to see the breakdown.
Hair
Kate Middleton's hair is envied around the world. At the Richard Ward salon in London, where her stylist James Pryce used to work, cuts run about $250 and styling comes in just under $100. Kate is also said to be a fan of Kérastase in-salon treatments, which can range from about $20 to $30.
Total cost: Assuming one trim, a couple of blowouts, the cost of a few hair care products, and one conditioning treatment per month, you could spend upward of $5,700 on your hair every year.
Skin care
To get her glowing complexion, Kate uses Karin Herzog skin care. "Ms. Middleton uses the Professional Cleanser ($50), the Vita-A-Kombi 1 ($76), the Vita-A-Kombi 3 Spot Zapper ($32), and the Oxygen Face Cream ($54)," according to the brand's UK managing director, Julie Cichocki. Kate is also a fan of facials and is said to enjoy the occasional Bee Sting Facial from Deborah Mitchell (about $267).
Total cost: If a woman were to restock her products every three months and go for a monthly facial, she could be spending over $4,100 a year.
Makeup
Kate may have done her own makeup for the wedding, but she reportedly took lessons with bridal artist Arabella Preston, who is said to charge $100 per hour for consultations. As for products Kate uses regularly, it's not known, but she was once spotted stocking up on Bobbi Brown products, including eye makeup and "basics."
Total cost: Most of Bobbi Brown's foundations run between $40-$45, blush is $24, and her eyeliners and eye shadows are around $20. With several hours of lessons and new makeup every few months, even a fan of the natural look like Kate could be spending more than $900 on makeup in a year's time.
Nails
Before the wedding, mother-in-law Camilla treated Kate's nails to services at the Jo Hansford Salon, where manicures run from $58 up and pedicures cost about $76.
Total cost: If you were to have a manicure and pedicure every two weeks, you'd be spending almost $3,500.
Teeth and tanning
Kate has long been rumored to get sunless tans, which run $118 a session at her usual salon. And she's supposedly also had dental work and whitening by Dr. Didier Fillion, which could have cost over $1,000.
Total cost: If both of these are true, Kate might have spent about $3,500 in the past year.
Grand total
For her first year of hair, skin, makeup, and grooming as princess, Kate could have spent about $17,700. Now that's a regimen fit for a queen-to-be!