Kate Moss Shares Her Beauty Secrets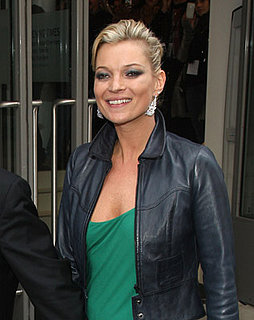 If there's one supermodel who proves she has staying power, it's Kate Moss. Sure, Cindy and Naomi and Heidi are still stars in their own right, but Kate's the one with the perfumes, the fashion line, and the big fashion bookings. Even after a cocaine scandal and recently saying a pro-anorexia motto, Kate continues to reign. In a Times of London interview, the 35 year old reveals her beauty secrets:
Iced water with cucumber; and waxing, definitely — it's better than shaving. Moisturise, sleep — and happiness: that's a beauty secret. I know I look different when I'm happy. I don't really stick to one thing.
Simple, but it's nothing we haven't heard before. I also drink lots of water, moisturize, wax, and try to be happy. Oddly enough, the multimillion dollar offers and rock-star dudes aren't exactly banging down my door. (Maybe the cucumber is key.) Some people are just lucky enough to be low-maintenance — like a former roommate, who never washed her face yet had the smoothest complexion you've ever seen.
Personally, it makes me feel better when stars confess that it takes a lot of work to look the way they do. After all, if we all had twice-monthly facials like Paris Hilton does, we might have smoother skin, too. When people reveal this sort of beauty secret, what's your take?