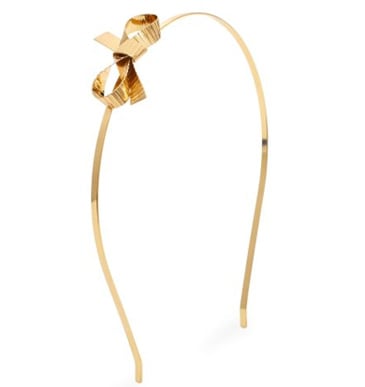 Kate Spade never fails to impress on the cute factor (recall her jingle bell headband from last year), and this year's festive hair accessory offering does not disappoint.
The gold-toned curling ribbon bow headband ($75) has a bit of a whimsical look, but it's not too over the top that it's ugly-Christmas-sweater-style gaudy. Wear it with a sleek ponytail or smooth blowout, or jazz it up by pairing it with a voluminous coiffure.
Tip: if you're feeling crafty, customize your own holiday-worthy head-topper by attaching real curling ribbon to a plain headband. To keep the ribbon from collapsing, be sure to first spray it with a stiffener, such as Stiffen Quik ($6).