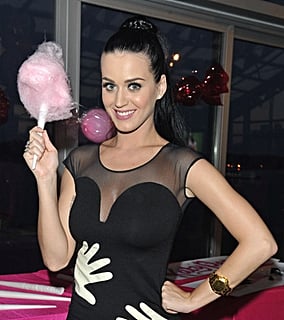 Katy Perry is the latest celebrity to jump aboard the fragrance train. The self-proclaimed "product whore" will be launching Purr by Katy Perry ($36-$65). The scent, a fruity floral, comes in a cat-shaped bottle with jeweled eyes.
Katy says that although she loves Beyoncé's Heat and Kim Kardashian's fragrance, she's doing things differently. "There are amazing fragrances backed by other celebrities, but what I'm bringing is not like any other," she told WWD. "It wasn't just like, 'I love gardenias.' That would have been the easy route. I really wanted to develop a scent that was completely unlike anything I'd smelled before and not one that smelled like a knockoff of another scent. I'd never want to do anything 'just because.'"
Purr will debut at Nordstrom in November, and more fragrances could follow. Katy said she's inspired by "the Japanese world," food, and cute things. "So if there are little dancing strawberries," she added, "I will be happy." Will you be happy to check out Purr, or will you pass?