Kerastase Nutri-Thermique Review
Splurge of the Week: Kérastase Nutri-Thermique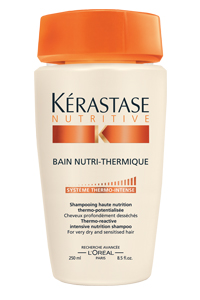 A couple of weeks ago, Kérastase sent a package of its new Nutri-Thermique hair care collection. Naturally, the first thing Mr. Bella did was put his nose by the shampoo.
"This smells like Holiday Inn stuff," he said.
"But it's French," I harrumphed. "They don't even have Holiday Inn in France!" (Not true.)
Fast-forward to our next date. I show up after using the shampoo and conditioner, then blow-drying my hair without any products. At one point, Mr. Bella smells my hair and says, "Wow, your hair smells really good." Sigh.
At any rate, he's right: the shampoo leaves a beautiful, soft floral scent. More importantly, it cuts down on frizz and flyaways, plus I can go one extra day without washing. At $34 for the shampoo and $38 for the conditioner, these items are definite splurges. But if it fits into your budget — or you merely seek great-smelling hair care — it's worth a look.