Kerry Washington Makeup and Beauty Tips | Interview
The One Thing Kerry Washington Won't Do Before Bedtime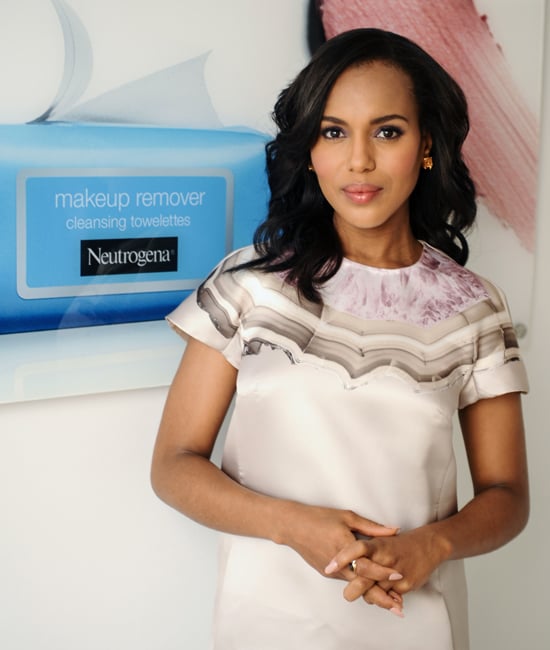 Not only has Kerry Washington been named Neutrogena's latest brand ambassador, but the actress will also take on the job of creative consultant for the company.
If you're wondering what a creative consultant does, it's a lot like her Olivia Pope role on Scandal. She'll help brainstorm marketing campaigns and product development by testing things out herself, reaching out on social media for input. "For me, it's not just about consulting, but it's also about being a voice outside the company," she told us in a phone interview. "It's to sort of say, 'Beauty is not just about loading on products to try to look like somebody else. It's really about being the best, healthiest version of yourself.'"
That's not all Kerry had to share. Find out the product she never goes to bed without applying, along with the things she learned on the Save the Last Dance set that she still uses today, after the jump.
POPSUGAR: What is the secret to your glowing complexion?
Kerry: I would say the three things that are most important for me are drinking enough water, getting enough sleep, and I never go to bed with my makeup on — ever, ever, ever! And that's huge. I feel like there are a lot of makeup remover wipes out there, but the Neutrogena Makeup Removal Wipes ($6) are so thorough, and you can really trust them to take care of your skin. If you want to know what your skin is going to look like tomorrow, it really starts the night before, and then the day before that. So [it's important] to really make an investment in the long-term health and beauty of your skin. It's about using products that are doing as little damage as possible.
PS: Who are your beauty icons?
Kerry: I don't know that I really have any specific beauty icons. I really respect women who have a sense of career, who are not trying to look like anyone else, and really redefine the cultural idea of what's beautiful by being their own beautiful self. Women like Barbra Streisand.
PS: What is your process like before a red carpet?
Kerry: When we [Kerry and her beauty team] all come together to create a look, it's like an art project. It's a fun, collaborative moment where everybody comes together to see, 'What do we want to do? How do we want it to look? What is this fashion/beauty moment going to be about?' And we sort of tell a story. We're constantly sending each other random pictures from a magazine, or I'll do a screen grab from TV. We're just constantly sending each other inspiration.
PS: What are your favorite beauty memories?
Kerry: I didn't grow up wearing a lot of makeup, so it's been a real education for me. I'll be honest: the first character that I played that really wore a lot of makeup was Chenille in Save the Last Dance. So, doing that makeup was a real education for me. I learned so much about lip color, eye color, and mascara, and doing that role really taught me so many tricks of the trade.
PS: What is the best advice you've ever been given?
Kerry: I feel like with each chapter of my life, I am always learning new things. Maybe that's it: to stay educate-able and keep learning. And keep growing. I think I really got that from my mom because she's an educator, and she's always learning and growing herself.