Kevin Murphy Color Bugs: Pink and Purple Hair Color
We Caught the Color Bug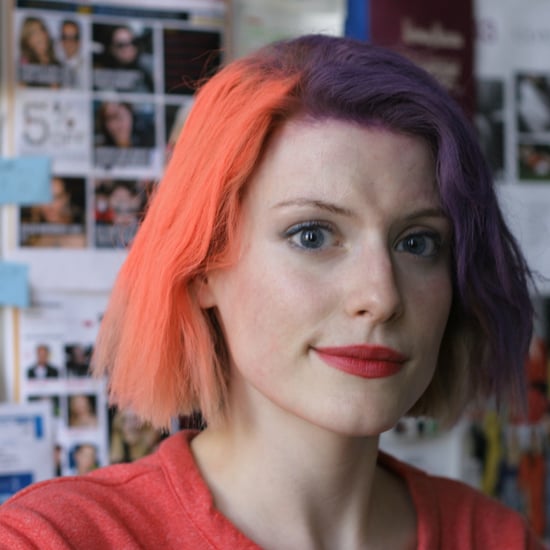 Bright hair dye, even the temporary kind, is usually messy, hard to get out, and takes a long time if you want to create more than a few streaks. So we were really excited when new Kevin Murphy Color Bugs came across our desks. Instead of typical messy liquid dye, they're little pressed powders that you just rub into your hair. That way, you can put on as much or as little color as you like, from a couple of soft streaks to going super bright all over. We tried the orange and purple shades, so to see what we thought (and if it actually came out), just keep reading.
Color Bugs are extremely easy to use in comparison to other hair dyes and color sprays. You just put some product in your dry hair (hairspray or setting spray if you want softer color, thick wax or cream if you want it brighter), and then rub the powder compact wherever you want color to show up. Application-wise, it's superlatively fast and mess free. The powder is also stunningly bright, and if you want high-definition color, this is the best we've seen. However, this product comes with two significant caveats:
The bugs go on neatly, but you will get some powder fallout. You won't want to touch your hair at all, and it may get on your face if you use it all over.
If you have light hair that's been chemically processed (permed, straightened, etc.), you may want to give this one a pass. The orange came out completely, but even after days, there was still plenty of purple left in my hair. Check out the picture below to see what it looked like more than three days later. Not ideal if there's a conservative dress code in your life.