Kimora Lee Simmons Interview: On Lov Me Fragrance, Beauty, and More
Kimora Lee Simmons Dishes on Scent, Style, and Getting Chic in a Flash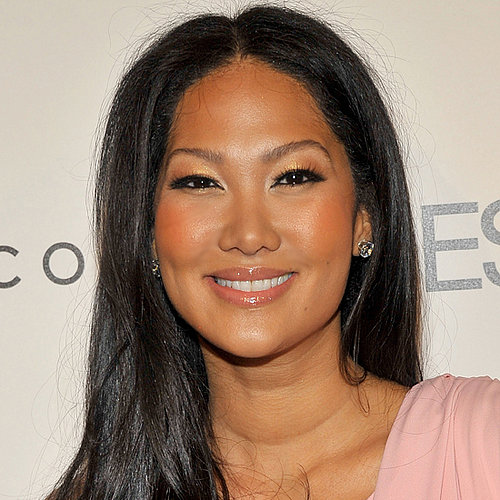 Kimora Lee Simmons has a lot on her plate between her three children, her role as CEO of her own fashion and beauty lines, and her television show, Life in the Fab Lane. With the launch of her new scent, Lov Me ($28), I got the chance to quiz this busy star on her beauty secrets, how she comes up with her fragrances, and what inspires her creatively. To see what Ms. Simmons had to say, just keep reading.
On getting ready when you have no time:
"I would say: always try to look your best, get your rest, and pull your hair up into a quick ponytail. A ponytail is always chic, or a bun — a little knot. Pulled back is always chic. I think clean, neat lines are best for an on-the-go, busy girl. Don't fuss with all the extra feathers and asymmetricals and hanging-off stuff, because that requires extra attention."
On letting her fans help create Lov Me:
"On my show, Life in the Fab Lane, I called some of my Twitter followers in to come by and have a meeting with me. We put all the notes out on the table, combined the scents, and just really took note of what people liked, what they gravitated toward, and what they didn't."
On how women should think of their perfume:
"Perfume should be like an accessory. It's something that you add, something that you wear, something that speaks to you, and brings out a certain feeling."
On how she had the idea for her latest scent:
"I create a fragrance from an inspiration or something that I like. In this case, I wanted to do a Spring/Summer scent, so I wanted something light. I also love florals, like exotic jasmine, and I love vanilla, so for me it was the process of piling those things together. From there, I work with a perfumer and we put the notes together that we like."
On who her fragrances are designed for:
"My customers, followers, family, whatever you want to call them — they gravitate toward a lifestyle that is similar to mine. So when I do this, I have me in mind, and I have all of these women in mind. These busy, beautiful women who are around me, who are trying to do similar things to what I'm trying to do."
On what makes a Baby Phat fragrance unique:
"The romance of the scents. I love them to be alluring, and sexy, and a bit playful. From the beginning, I've made them much more affordable, because I feel that shopping, fashion, and beauty should not exclude people. It should make them feel good."