Latisse Review: Cost, Discoloration, and Effectiveness
The Latisse Diaries: A Long-Overdue Update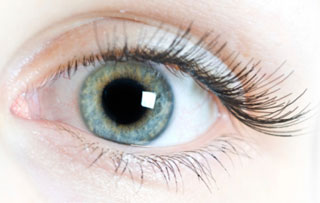 A few months back, I started using Latisse, the drug approved to make your eyelashes longer and thicker. I reported on it for a few weeks, but then dropped off — for which I apologize — and later quit using it. Why did I go through all the trouble of going to my dermatologist, spending hundreds of dollars on the product, and reporting on it to then just quit? I've got a bunch of reasons it didn't work for me, so if you'd like the lowdown from someone who went through the entire Latisse process, just keep on reading.
It's not that Latisse didn't work; it worked pretty well. My lashes were noticeably longer, thicker, and darker. But I used it for a full 16 weeks, and even at the end they weren't voluminous enough to really go without eye makeup. You have to keep using Latisse to maintain the results, and I couldn't imagine going the rest of my life shelling out $130 every other month just to find myself putting mascara on to get the same results I'd always gotten.
What really made me stop using it, though, was the lid discoloration. There's been a lot of talk about Latisse being able to turn blue eyes brown permanently. Although I'm blue eyed, I never experienced anything of the sort. What I did get, though, was a reddish-purple tinge to my upper eyelids that had never been there before. Initially I thought it was irritation, because I'd been getting red eyes from the product, but even once the redness abated, the strange discoloration remained. And then it started getting worse, darkening to the point where my lash line looked almost bruised. I'm absurdly pale, so I'm sure the appearance was much worse than it would be on most people, but still — not something I cared to live with. So I quit using it. After a few weeks, the lid discoloration started to lessen (I'm really, really glad it wasn't permanent and I feel pretty lucky). Now, five months later, my lids are back to their normal shade.
Your appearance is a very personal means of self expression, so I'm sure this is worth it for some people. And I realize that my experience isn't going to be exactly like anyone else's. But as a person with an average income who just wanted to be able to go without mascara, I felt a little put off and a lot impoverished by the entire experience. Latisse sells a very appealing concept, but the reality — for me, at least — just wasn't as charming. If you have any questions about the product, just leave them in the comments and I'll be glad to answer them.