Lela Rose Spring 2012 Hair, Makeup, and Nails
Viva Las Vegas: Lela Rose Looks to Sin City For Inspiration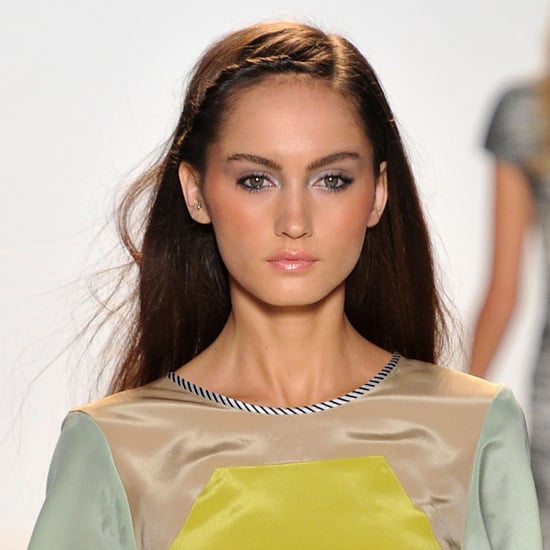 When you think of old-school Las Vegas, you likely think of major glitz and glamour, but that's not exactly the concept Lela Rose wanted to capture for her Spring 2012 collection. In lieu of a Mad Men-esque style, the feel was more post-Rat Pack-era Vegas, explained celebrity manicurist Deborah Lippmann (for Beauty.com). Similarly, the hair and makeup reflected a cool and dusty, desert-like feel. See how it all came together when you read more.
Desert rose:
Since Rose was inspired by the idea of Las Vegas, Ted Gibson (for Beauty.com) explained of the twisted-fringe look: "This girl, she would be sweaty, her hair would be dry, and it just made sense that this is the kind of texture we would do." To get that feel, Gibson used his Build It spray ($20) and Tame It ($20) to prep and tousle the hair. Next, he parted the hair from the crown to the sides (from ear to ear), twisting the bang area all the way back, pinning it down at the nape. Beautiful Hold hair spray ($20) was then spritzed on to finish the style. "Every girl is used to kind of wearing a braid in her hair, but this is another alternative to having a braid," said Gibson. "It's not too complicated, and that's how hair should be."
Nailing it:
Models wore Deborah Lippmann nail lacquer in Believe ($16), a shimmering gold-beige metallic, on both their fingers and toes. "It's exactly a silver and exactly a gold; a warm and a cool," Lippmann described, making it somewhat neutralized, and therefore easier to wear. Rose had a few stipulations on the pedicures, however: no square-shaped toenails and no hair on the toes. Of the latter, Lippmann quipped, "It's like nostril hair; it's gotta go."
Everyone wishes for silver and gold:
Tina Turnbow (for Beauty.com) described the makeup in three words: antique, sunny, rose. Turnbow used Bare Escentuals products to create "a look that's not just for the runway, but something you can wear every day," with the focus on the eyes. Instantly brightening Midnight eyeliner ($14) was used on the inner rims of the top and bottom lids (one-third of the way across only), and the Mingle shade from the out-next-month The Afterparty Eye Shadow Quad ($30) was applied as a base. The Rowdy hue was layered over it, Lights Down was pressed in close to the lash lines, and Bliss eye color ($13) was used on the centers of the lids. Rosy cheeks and pink lips completed the overall palette.