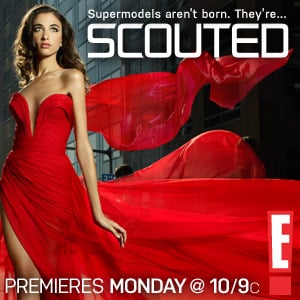 Ever wonder how the little girl from Iowa landed her face on the cover of your glossy magazine? Of course you do, and now you can see for yourself how models make it from farmhand, to high hopes, to even higher fashion thanks to E!'s latest series, Scouted. Join E! as they pull back the couture curtain to reveal rare stories, runway dreams, and the real process of how models are discovered.
The fresh-faced models will be whisked away from their small towns in hopes of being signed by famed New York agency One Management, whose current roster of talent includes such top models as Claudia Schiffer, Iman, Eva Herzigova, Bar Refaeli, Bridget Hall, Kelly Brook, Devon Aoki, and Josie Maran (like whoa). Check out the video below to get a glimpse of Scouted, and remember: Stars are not born. Stars are created.
And don't miss your opportunity to be part of the journey. Scouted premieres Monday, Nov. 28 at 10 p.m. EST/PST only on E!