Liya Kebede at Cannes: Interview and Makeup Tips
Model Liya Kebede Talks Minimal Makeup in Cannes
As POPSUGAR editors, we independently select and write about stuff we love and think you'll like too. POPSUGAR has affiliate and advertising partnerships so we get revenue from sharing this content and from your purchase.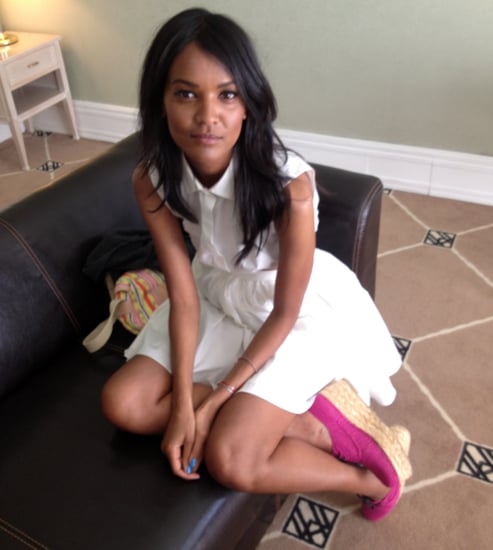 For model Liya Kebede, Cannes feels like magic. "It gets into you the minute you arrive here," she said this morning. "It's very glamorous, and I like that it's very international as well. You see all these different people from all over the world coming with their films, which is great." It's been a big year for Liya, who was named a L'Oréal Paris brand ambassador last June and is making forays into the film world. She's currently working on The Best Offer from Cinema Paradiso director Giuseppe Tornatore.
There's more to Liya than her stunning looks, though. She won a BellaSugar beauty award thanks to her philanthropic efforts. Her eponymous foundation is dedicated to improving maternal health, and she's created a clothing line, Lemlem, which helps support craftswomen in her native Ethiopia. Today, the supermodel talked about her various work endeavors and shared her best tips on beauty, the inside scoop on her own makeup routine, and more.
BellaSugar: It's pretty surreal here. Have you ever had an incredible Cannes moment?
Liya Kebede: I think you get it every time you get here. Last time, I ran into Woody Allen in the lobby. You can't believe it — it's just insane. There's so many of these great people and stars. At some point, you don't even react anymore. You get overstimulated. Every corner is some incredible person, or you go to a party and it's full of everybody. It's amazing. You just go, "I'm in Cannes!"
BellaSugar: And part of Cannes, is of course, getting made up and looking great, which you're quite familiar with, I'm sure. What's the best tip you've learned from the pros?
Liya Kebede: Less is more. If you're going do an eye thing, then don't do a lip thing. Try to find a balance about what you do. Also, nothing is necessarily specific — using a lip thing on your eye or cheeks is fine, and it works, and it's light. Play around! Nothing is so fixed.
For the rest of our chat with Liya, just read more.
BellaSugar: You're getting hair and makeup done by experts for events and interviews, but what is your typical beauty routine like?
Liya Kebede: I don't really do a lot. I tend to try and do the minimum. I feel the more you do, the worse it gets. I don't really wear makeup during the day, unless I'm working. And if I go out, I put a little bit of
Voluminous False Fiber Lashes mascara, which I love. I'm now getting into eyeliners, which I never used to do before. I find it super easy to do on your own.
BellaSugar: Is there any one beauty product you love most?
Liya Kebede: I love beauty products, especially very simple pharmacy stuff. You know the Australian Papaw in the orange tube? I always have it in my bag.
BellaSugar: You're one of the world's most successful models, and you're in Cannes to chat about beauty. What does beauty mean to you, and when do you feel the most beautiful?
Liya Kebede: I think it's always exciting when you're at Cannes, and everyone's getting ready and you're picking incredible outfits. When you're really getting prepared, you look your best. You feel really good, and it's exciting.
BellaSugar: And in addition to the modeling, designing, and business running, you're a philanthropist and run the Liya Kebede Foundation to help with maternal health issues. What is the latest with your work in that area?
Liya Kebede: Mother's Day just came and went, which is interesting. More of the advocacy work. Maternal health is getting better. The amount of women who are dying in childbirth is being reduced, which is a good sign. I think we're on a good track. Again, there's a lot more to do and push more. We're going to be more focused on trying to push that idea across.