Lucy Hale Beauty Interview
Lucy Hale Talks Twerking, Bold Brows, and Feather Boas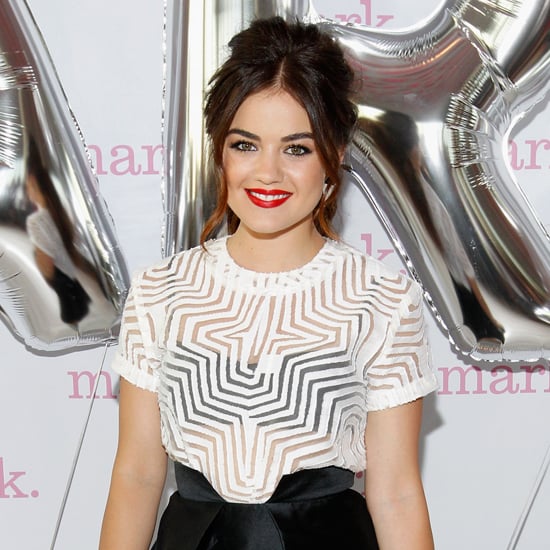 Lucy Hale admits that before her Teen Choice Awards hosting gig, she had no idea what twerking was until she did it alongside cohost Darren Criss. "They [the producers] were throwing things at us left and right: 'You're going to be in a onesie; you're going to be twerking.' The spontaneity of it all was a thrill," Lucy tells us. When she's not watching Miley Cyrus videos for dance tips, Lucy stars in ABC Family's hit show Pretty Little Liars and moonlights as the Mark cosmetics beauty brand ambassador. We talked to Lucy at the beauty brand's 10th birthday celebration, and she revealed her best beauty advice, travel skin care essentials, and more. Read on for more.
Just looking at Lucy, you might mistake her for a fresh-faced teen (we did). She does play a high school student on Pretty Little Liars, after all. To maintain her youthful glow, the 24-year-old sticks to a strict regimen of organic, fragrance-free products for her sensitive skin type. She even has a special routine for travel. "Take that makeup off and let your skin breathe, drink twice as much water as you would normally, and always bring a good moisturizer. Sometimes I'll bring little eye patches that I'll put on 20 minutes before we land," she explains. "I think it's mainly about hydration."
On the other side of the spectrum, Lucy isn't too stressed about aging. "I always admire people like Meryl Streep and Helen Mirren, who have aged so gracefully but have done it through the natural aging process," she says. "I think they're beautiful." More of her favorites include bold-browed beauties Brooke Shields and Audrey Hepburn. "Not everyone is comfortable with having bolder brows. I grew up not liking them, and now I've embraced them," she says. "I went through a cycle of horrible shapes and sizes, but now I feel like it makes me a little different."
Lucy has also had a longtime love of red lipstick that began back in her days of playing dress-up. "My grandmother was very fun and free-spirited and very glamorous. We'd put on feather boas, and she would let us wear her red lipstick," she says. "I love a good statement lip." Right now her favorite is the Mark Make It Rich Lip Color Crayon ($11). You might also find mascara, blotting papers, concealer, and bronzer in her bag at any given time.
All in all, the biggest lesson we learned from Lucy was to keep it simple. When we asked her to pay it forward with her best beauty advice, she sagely replied, "It goes deeper than makeup. Every girl is different; some girls like no makeup, some girls like a lot. Do whatever works for you. Just always be comfortable."